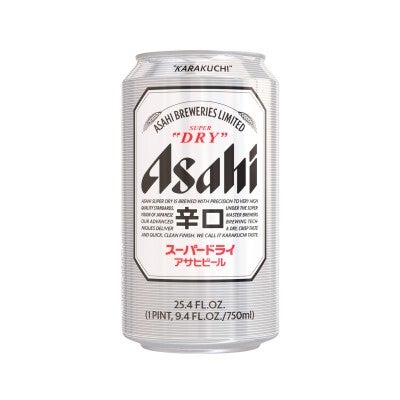 Japanese beverage company Asahi Super Dry has announced plans to launch a 25.4oz can format in the US.
The decision to increase from the existing 11.2oz can format comes in response to the rising consumer demand for portability and convenience of can packages.
According to the company, market research found that consumers wanted premium beer brands to be made available in varied can formats.
Asahi Super Dry's new cans will feature the company's branding 'front and centre'.
From next month, beer sold in the cans will be available from US stores.
Asahi Beer USA commercial operations vice-president Derek VanTine said: "The Asahi Super Dry brand has shown amazing growth in off premise channels over the past year, ranking in the top 10% of import growth brands in the US market.
"Building on those trends, we believe that there is still huge upside for growth by increasing the availability of the brand and introducing it in new formats like the 25.4oz can.
"The brand is also underdeveloped in the convenience channel and this is the perfect package to introduce it to shoppers in that channel."
Asahi Super Dry is one of the largest selling beers in Japan. The company brewed its beer at Asahi-owned breweries supervised by Japanese Master Brewers, using malted barley, hops, yeast and rice.
Asahi Super Dry will continue to use its six ingredients recipe for the lager.
Last October, the company announced its plans to launch newly upgraded premium packaging on the US market for the first time in 15 years.
The update involves Asahi Beer USA's primary packaging and a complete overhaul of its secondary packaging.
All sizes and formats of the product were affected, including 11.2oz bottles, which are available in 6pk, 11.2oz cans available in 12pk and 24pk and 16.9oz (500ml) cans.