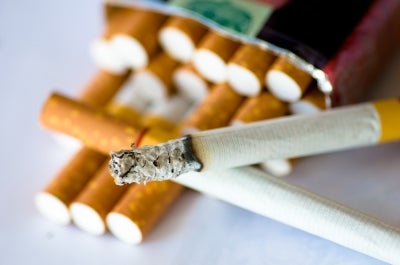 The Australian Government has slammed British American Tobacco for using images of kangaroos to sell its Winfield brand cigarettes in Europe.
Australia attorney general Nicola Roxon claimed that many of her compatriots would be outraged by a big tobacco company using the country's healthy lifestyle to market their products.
"Whilst it's probably unlikely that we can do anything to stop these packs being sold in Europe, we certainly can call on British American Tobacco, as the Australian public can, to say 'get your hands off our icons'," Roxon said. "Don't use them to sell your product which actually has nothing to do with Australia.
British American Tobacco, challenging Australia's move towards plain packaging, is selling its brand overseas with a picture of a kangaroo on the front and a map of Australia on the back using the slogan: 'An Australian favourite'.
"They are trying to imply to the European market that this is something that Australia promotes, that this is something that Australians prefer, that this somehow is connected with our healthy lifestyle," Roxon added.
In response, British American Tobacco Australia stated that it did not manufacture the European product with the kangaroo image, with another part of the company doing so. It also said it would be inappropriate to comment further as the Winfield tobacco branding is currently the subject of High Court action.
The dispute comes amid Australia being the first country to make plain tobacco products packaging mandatory in a bid to cut down smoking rates, under a law passed in November 2011.
According to the legislation, from 1 December this year, all tobacco sold in Australia must be in olive-brown packets with large, graphic health warnings showing diseased body parts and sick babies.
The law also bans brand imagery, sparking a response from the major tobacco companies, which have launched a legal challenge to the High Court, claiming that it infringes their intellectual property rights.
According to industry analysts, tobacco companies are worried that plain packaging could spread and threaten growth to important emerging markets like Brazil, Indonesia and Russia.
Caption: Australia is set to be the first country to mandate plain packaging to cut down smoking rates. Image courtesy of hinnamsaisuy