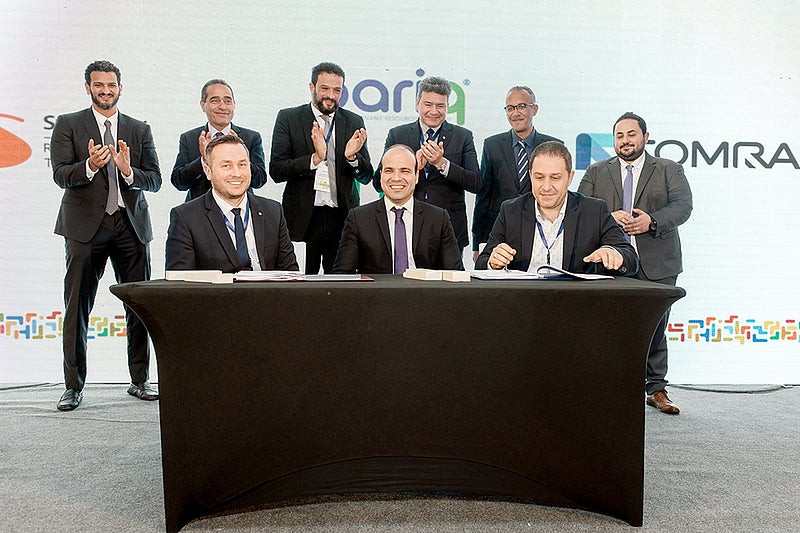 Egypt-based bottle-to-bottle recycling company BariQ has signed a contract with Starlinger for another polyethylene terephthalate (PET) recycling system and a solid-state-polycondensation (SSP) reactor.
The company will install a Starlinger recoSTAR PET 215 HC iV, which features a viscoSTAR 350 SSP reactor, at its plant in Giza.
The recoSTAR PET 215 system has a production capacity of 2,700kg/h and is claimed to be the largest size of the latest reactor generation.
By installing the solution, BariQ expects to increase its total production capacity to 35,000t of food-grade recycled PET (rPET) pellets a year.
The viscoSTAR 350 SSP reactor is intended to provide additional PET processing capacity and residence time for BariQ, as well as minimise the footprint of the firm's new recycling line.
BariQ previously installed a Starlinger PET recycling line at its facility in 2012.
BariQ chief operations officer Ahmed ElKasaby said: "During the past decade, Starlinger has supported us with their reliable equipment and technology, meeting the highest quality specifications and rising quality requirements of the customers, and handling the entire variability of raw materials.
"As for the new line, the technical discussions with Starlinger started two years ago, ensuring that the line is equipped with the latest technology and meets all standards to achieve top quality in rPET resin production.
"Believing in the decontamination efficiency of Starlinger technology and their excellent customer support, BariQ again choose Starlinger for the expansion project."
BariQ will also upgrade its existing Starlinger recoSTAR PET 165 iV+ recycling line by adding a melt filter for fine filtration, as well as an additional SSP reactor.
The upgrade is intended to add to the line's production capacity and allow it to produce other rPET types than regular bottle-to-bottle grades.
The company said it will enable round-the-clock production of rPET in line with the highest quality specifications.