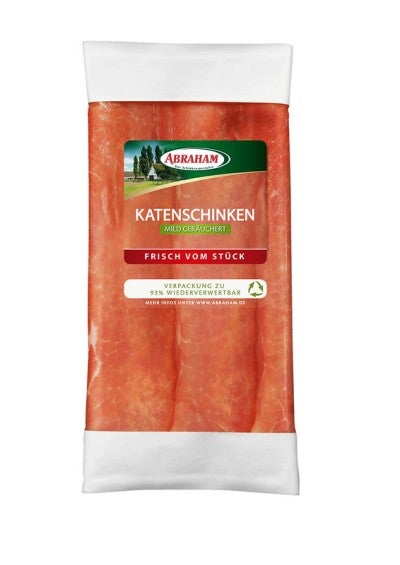 The German branch of Switzerland-based meat supplier Bell has started using recyclable packaging for Abraham, its thinly sliced gourmet ham range.
Bell Deutschland is rolling out WalletPack packaging for more than 30 products, including its Seranno, Prosciutto and Savoy sliced ham brands.
The mono-material recyclable packaging uses 37% less material compared to standard modified atmosphere packaging. It operates as a folder that the consumer can open to unpack the product.
This move will enable Bell Deutschland to reduce its plastic waste by 35t a year and lower the company's waste disposal fees.
The WalletPack solution was created by British packaging company Mondi after two years of development. It will be available at German retailers from this month.
Bell Deutschland senior product manager Jessica Trautmann said: "As with all food packaging, the priority is to protect the contents, but it has been our aim for some time to improve the recyclability of our packaging as we look to make all parts of our business more sustainable.
"Mondi has been a valuable partner in creating this solution, and we are delighted to be launching this new packaging that is recyclable but functional and attractive on the shelf."
Mondi EcoSolutions project manager Thomas Kahl said: "Our aim is to create packaging that is sustainable by design. It should be better for the environment while protecting food and standing out on shelves to represent the Abraham brand.
"Our unique EcoSolutions approach takes all these elements into consideration. We worked closely with Bell Deutschland at every stage to ensure that this was the best solution for all their products."
Earlier this month, Mondi partnered with Tesco Central Europe on a recycled shopping bag initiative.
In the partnership, Mondi will use corrugated waste from Tesco's warehouses to produce its EcoVantage recycled paper, which will then be used to make Tesco shopping bags.