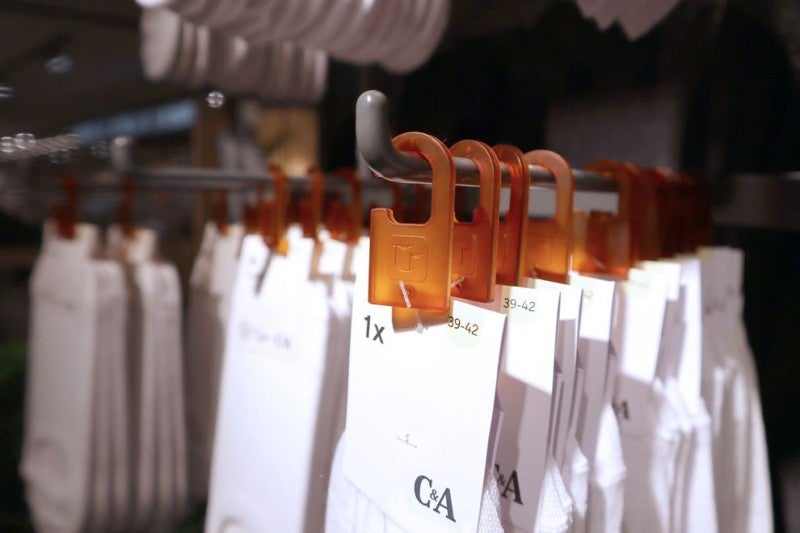 European apparel retailer C&A has partnered with traceless materials, a German start-up that works to develop a circular bioeconomy, to reduce the use of plastics in fashion packaging.
C&A will replace single-use hooks with advanced biodegradable hooks, which are currently available for a testing phase at C&A's store in Hamburg-Altona.
The plastic-free hooks are made by traceless materials using only agricultural plant waste products.
They are naturally compostable and claimed to reduce carbon emissions by up to 95%.
traceless materials CEO and co-founder Anne Lamp said: "For us at traceless, this small hook means a big step forward: it is the first pilot product to hit the shelves made from our bio-circular material innovation!
"After many months of development time, our whole team is incredibly proud of this achievement."
The introduction of traceless materials' sustainable hooks is part of C&A's circularity initiatives, which include its Cradle to Cradle Certified product innovations and collaboration with material sciences company Recover.
It is also part of C&A's wider strategy to reduce its use of single-use plastics.
Through these initiatives, the company aims to become a 'leading innovative player' in the textile sector and achieve the goals of its 2028 Global Sustainability Strategy.
C&A global sustainability head Aleix Busquets Gonzalez said: ''Our collaboration with traceless is an important step on our way to reaching our ambitious goal of replacing consumer facing single-used plastics in our stores with sustainable alternatives by 2028."
C&A operates more than 1,300 stores in 17 European countries, as well as a digital channel. It employs more than 25,000 colleagues in total.
The retailer aims to provide 'quality and long-lasting fashion at affordable prices for all'.
Based in Hamburg, traceless materials uses its proprietary technology to convert plant leftovers into a 'holistically sustainable' alternative to plastic.