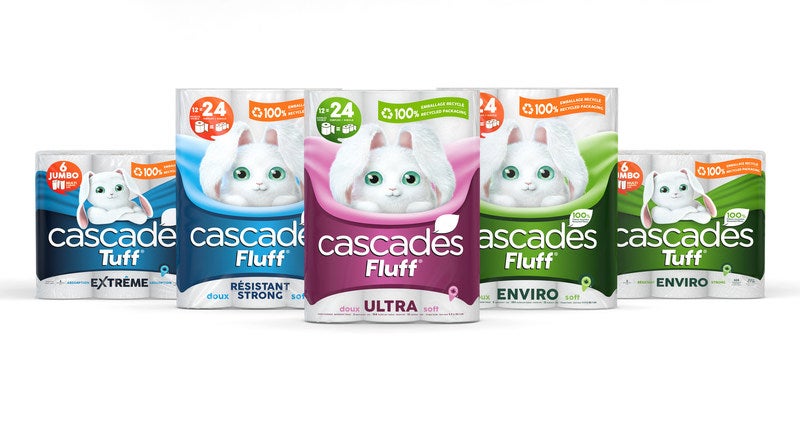 Canada-based sustainable packaging company Cascades has created fully recycled plastic packaging for its entire Fluff and Tuff line.
The recyclable packaging solution is the outcome of several months of research and testing and has been developed to meet consumer expectations.
It is in line with Cascades' efforts to integrate its environmental values with technological innovation.
Cascades Tissue Group marketing and innovation vice-president François David said: "We had to find a packaging solution that would meet the environmental standards of Cascades products.
"In addition to being 100% or partially made of recycled fibres, with 4.5 times less water and 2.4 times less energy than the average in the North American paper industry, our products hold the industry's most stringent recognised environmental certifications, UL-Ecologo [and the] Forest Stewardship Council (FSC).
"It was only natural that this packaging should be eco-responsible as well. We are very proud to be the first company to develop a recycled polyfilm that is as effective as its virgin equivalent and that will certainly become an example to follow in the industry.
"At Cascades, we are committed to minimising the impact of our products on the environment. It is therefore logical for our product packaging to have a small environmental footprint while achieving higher standards than the industry average."
In addition to launching the recyclable packaging, Cascades has also introduced a promotional campaign featuring the Fluff and Tuff brand's bunny mascots.
There will be no changes to the brand's products other than their packaging.
The company expects to finish rolling out the packaging by the end of this year.
Last September, Cascades introduced a thermoformed cardboard tray featuring fully recycled fibres for fresh food packers.
The tray is designed for fresh food packers in North America that use automated equipment. Most of the fibres used in the product are FSC-certified.