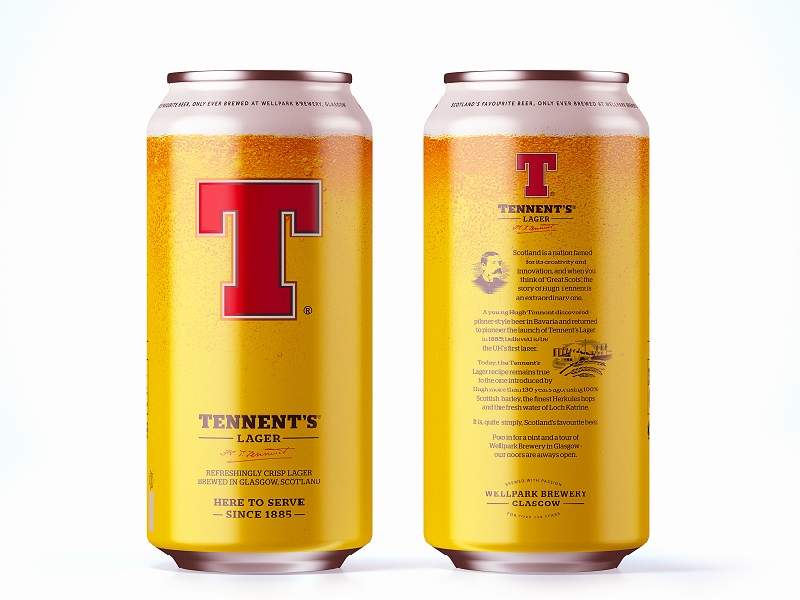 Ireland-based alcoholic drinks manufacturer C&C Group has redesigned the packaging of Scottish beer brand Tennent's Lager in an attempt to emphasise the quality of the drink.
The can, which comes in different sizes, was designed to evoke a poured pint of lager and is inspired by the glasses where the beer is usually served. The back of the packaging features details of Tennent's founder Hugh Tennent and his journey to Bavaria where he learned pilsner-style brewing techniques.
Launching from May 2018, Tennent's cans will come in several sizes; 330ml, 440ml, 500ml and 568ml. This summer, the brewer will also update the packaging's labels by introducing new stock keeping units (SKU) like the 5l mini-keg, a 6x330ml fridge pack and an on-pack promotion on the 15x440ml pack, which will give drinkers a chance to win a pint glass with their name engraved on it.
Tennent's Lager brand manager Rhona Fyfe said: "For drinkers in Scotland and abroad a pint of Tennent's Lager is truly iconic, and we're taking that image as the inspiration for our new cans. The design celebrates the liquid on the inside, which remains the same refreshing lager that was first brewed in 1885."
One of the best-selling lagers in Scotland, the drink is manufactured at Tennent's Wellpark Brewery in Glasgow using 100% Scottish barley, Herkules hops and water from Loch Katrine, and also has a gluten-free variant.
Fyfe said: "We pride ourselves on brewing at Wellpark, using the finest quality ingredients as founder Hugh Tennent created over 130 years ago. This story now takes pride of place on the can, highlighting the history, quality and provenance of the liquid inside."
Earlier in May, Tennent's launched the Lager Care, a quality control programme for the on-trade market that bids to educate consumers on beer management. As part of the project, drinks will be invited to the Tennent's Training Academy to learn about cellar management, glass care and beer quality.
In March, the brewer also announced it would update its labels with alcohol consumption guidelines on its 24x440ml, 24x500ml, and 24x568ml can multipacks.