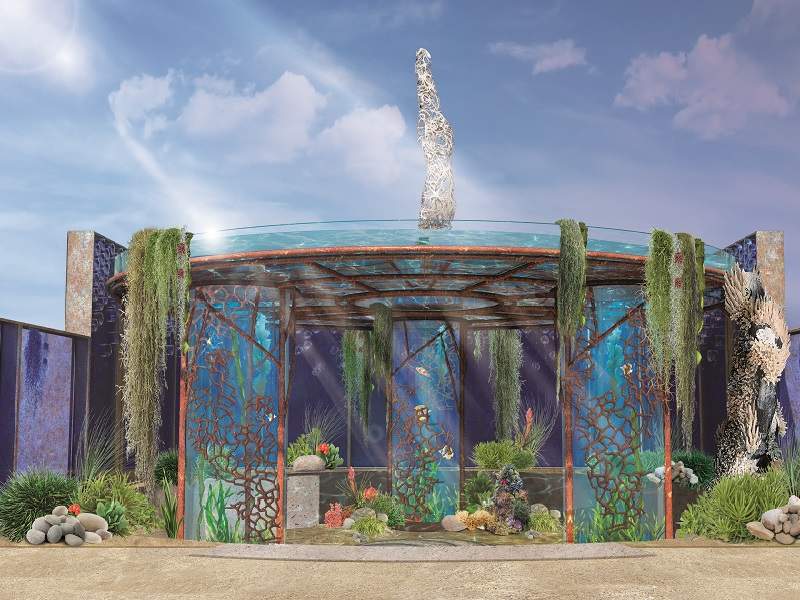 A garden showing the impact of plastic waste on the ocean will be on display at the upcoming Chelsea Flower Show taking place later in May in London.
Designed in a bid to recreate the 'largest garden in the world', the ocean, the Pearlfisher Garden will recreate the image of the Earth drowning in plastic waste
The creation, which was conceived by Pearlfisher creative partner Karen Welman and her team of designers, will feature a 3D-printed sculpture of a Pearl Diver made entirely from recycled PLA plastic. The centre of the garden features 'The Coral Man', designed by sculptor and environmentalist Jason deCaires Taylor.
Some 500 recycled plastic bottles have also been used to build the boundary walls of the garden and represent how much plastic packaging is thrown into the oceans every 2.5 seconds.
Pearlfisher designer John Warland said: "This is going to be a challenging display to look at but I think it's also a wonderful opportunity to raise awareness of the pollution that is taking place on our planet.
"Designing this piece was also a challenge and I have never done anything like it before and probably never will again as frankly it sticks out like a sore thumb, but I think the message is very important."
Warland also said that despite the importance of the message the garden aims to convey, he still hopes it will manage to 'replicate the beauty of the underwater world in the heart of Chelsea.'
Karen Welman added: "As designers, we saw an opportunity through design, to creatively highlight one of the world's most pressing problems and make change.
"My hope is that it will inspire and educate all and be a lasting visual legacy for our grandchildren and future generations to come."