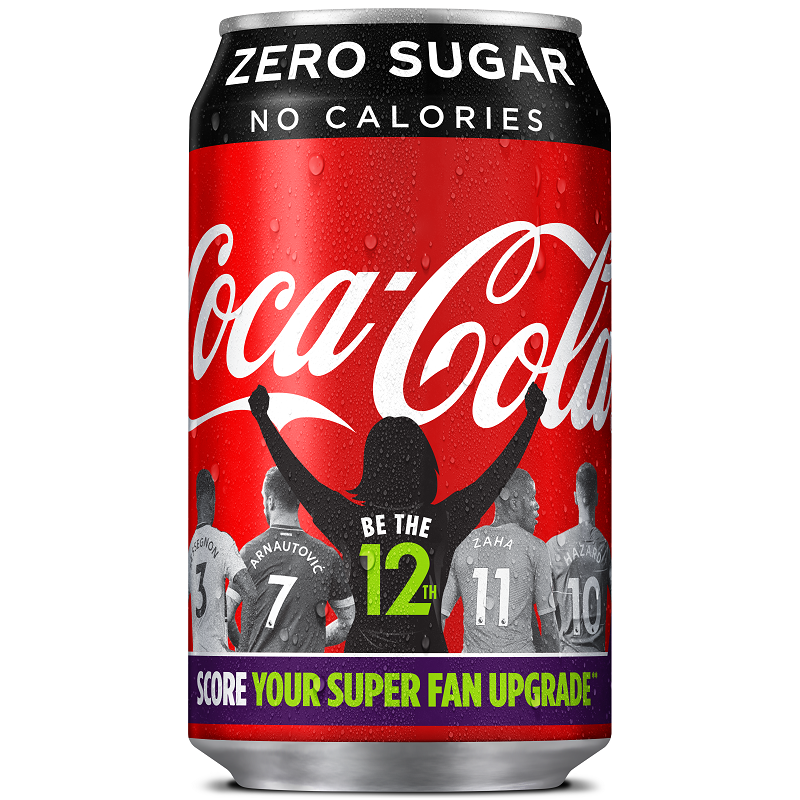 Coca-Cola Great Britain (CCGB) has launched its Premier League partnership with a new on-pack promotion "Be the 12th" for its "Where Everyone Plays" campaign this month.
"Be the 12th" will run across packs of Coca-Cola – both original taste and zero sugar – and Diet Coke, featuring images of 20 footballers from Premier League clubs and a silhouette of a 12th player.
One "Be the 12th" entrant will be selected to be the 12th player on the limited-edition packaging and win a hospitality package, home-game 2019/20 season match tickets and more. Thousands of Premier League prizes such as FIFA games and club shirts will also be available to win throughout the campaign.
CCGB on-the-go formats, take-home PET bottles and multi-pack cans will all feature the campaign.
"Be the 12th" will also be supported via media partnerships with Talksport and Joe.co.uk and in digital.
CCGB and Ireland marketing director Paul Grace said: "Coca-Cola has always been a passionate supporter of football and sport and we're excited to be able to bring fans closer to the action through our partnership with the Premier League.
"We want to use this opportunity to celebrate the people who make the Premier League the best in the world, as well as raising awareness of our wide range of drinks."
The "Be the 12th" campaign is part of CCGB's and the Premier League's "Where Everyone Plays" campaign. The campaign includes a TV advert featuring Manchester United and England footballer Jesse Lingard and retired footballer and broadcast pundit Jermaine Jenas.
"Where Everyone Plays" will also see the Premier League trophy travel across the UK on an official CCGB trophy tour across March and April.