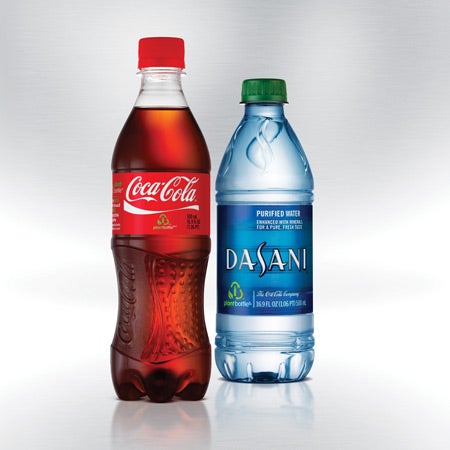 Coca-Cola is developing a new version of its plant-based bottling material as part of an ongoing scheme to appeal to environmentally conscious customers.
The current packaging was introduced in 2009 and was used in more than 2.5 billion plastic bottles last year, which is about 3% of its global volume.
According to the company, as much as 30% of the revamped PET plastic packaging it uses has been made from plants, reducing the amount of petroleum used.
Back in the summer, the business also teamed up with HJ Heinz, which used the green packaging for its ketchup bottles.
In July this year, Coca-Cola announced plans to launch its 100% recyclable PlantBottle packaging in the UK, which will contain both recycled PET (rPET) and plastic derived from a by-product of sugar production, PlantPET.
The new material would contain about 22%-23% rPET and up to 30% PlantPET, with the remainder being virgin PET.
The packaging is made by converting sugarcane into monoethylene glycol (MEG), which represents 30% of the total composition of the PET plastic by weight.
The PlantPET is identical to rPET, and the new packaging has been run through the sorting line at ECO Plastics in Lincolnshire, with which the firm has partnered to form a joint venture company that will supply rPET over the next ten years.
The packaging format will help Coca-Cola to reduce the carbon footprint of its packaging.
In its first year, PlantBottle was launched in nine global markets, being Brazil, Canada, Chile, Denmark, Japan, Mexico, Norway, Sweden and the US. It was used on brands such as Bonaqua Water, Barqs, Coca-Cola, DASANI, Fresca, iLOHAS, Sokenbicha, Sprite and Vitaminwater.
Caption: 30% of the revamped PET plastic packaging that Coca-Cola uses has been made from plants. Image courtesy of the Coca-Cola Company.