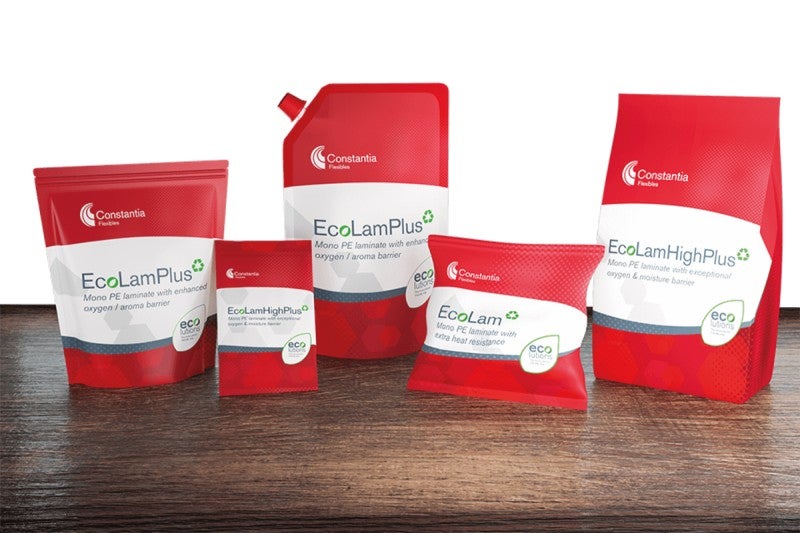 Austrian packaging manufacturer Constantia Flexibles has completed an industrial recycling trial of its EcoLam laminate product, which aims to offer a high barrier while being easily recyclable.
In the trial, production waste from different EcoLam family laminates, including ethylene-vinyl alcohol copolymer, metallisation, adhesives and inks, was broken down and sent for reprocessing.
Recycling machine manufacturer EREMA, a Constantia Flexibles partner, used an industrial-scale extruder to reprocess the waste into regranulates, which were then converted at the company's Constantia Pirk into a blown film.
This film was used as a sealant when laminating new EcoLam materials.
The trial demonstrated that printed and metallised polyethylene (PE) based laminates from the EcoLam family can be reprocessed into new films.
Examinations of the trials also showed that the lamination film contained up to 80% recycled content.
In addition, the company found that the type of adhesive and printing inks used impacts the quality of recyclable material.
Constantia Flexibles Research and Development Group senior vice-president Prof Dr Achim Grefenstein said: "In a circular economy, it is crucial that recyclable packaging laminates can be reused by the laminate manufacturers themselves, as is already the case for many coextruded films, ie films consisting of several materials.
"The current practice of incinerating or downcycling production waste will then be a thing of the past, an important step towards a more sustainable future."
In 2019, Constantia Flexibles' EcoLamHighPlus high-barrier laminate was tested for its recyclability in the existing low-density polyethylene (LDPE) recycling stream by the RecyClass Initiative of European Plastics Recyclers.
The company employs around 8,540 employees across 36 sites in 16 countries.
In May, the company agreed to purchase packaging manufacturer Propak for an undisclosed sum.
Based in Turkey, Propak produces packaging for the snacks market. It operates from one plant and employs around 360 people.