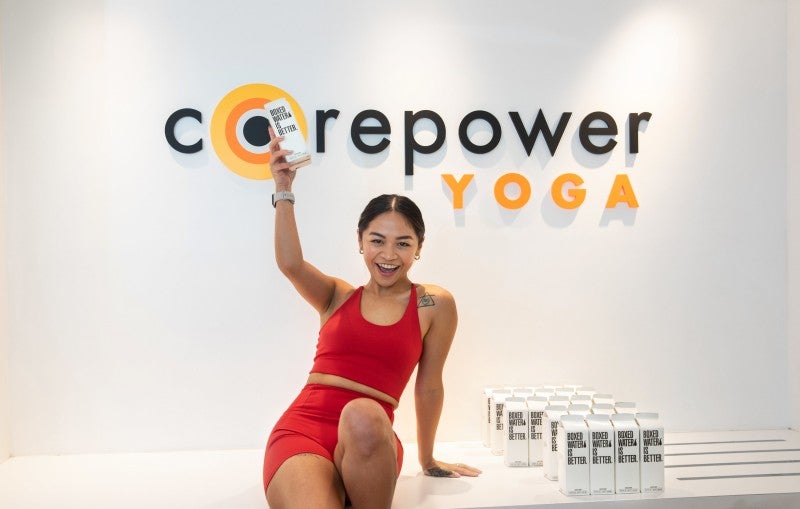 US-based yoga brand CorePower Yoga has partnered with Boxed Water Is Better, a sustainable alternative to plastic bottles, to improve sustainability at its studios across the US.
CorePower Yoga will replace all the single-use plastic water bottles available for purchase at its studios with Boxed Water.
The brand currently operates more than 200 studios across the country.
The transition is scheduled to start this month and is expected to divert 96,000 single-use plastic bottles from landfill a year.
CorePower Yoga is also encouraging members to bring their own refillable bottles. 
CorePower Yoga CEO Niki Leondakis said: "CorePower Yoga was formed on the principle of transformation, which is not limited to the body and mind, but in understanding our symbiotic roles and responsibilities to the planet.
"Our partnership with Boxed Water builds on the sustainability programmes we have in place and enables us to offer our students a more renewable packaged water option."
An independent life cycle analysis showed that Boxed Water features 92% plant-based packaging, including a cap made of tree pulp waste.
In addition, every Boxed Water carton is made mostly from paper sourced from Forest Stewardship Council-certified, sustainably grown trees, making it fully recyclable.
Boxed Water chief revenue officer Robert Koenen said: "Conscious companies like CorePower Yoga are generating the inertia we need to get the ball rolling on plastic waste reduction.
"Not only is CorePower Yoga mitigating their own plastic waste with this effort, but they are educating thousands of students on how to reduce waste with their own business choices."
CorePower's partnership with Boxed Water comes shortly after the release of the Post-consumer Plastic Recycling Data Report, which was carried out by market research company Stina.
The report found that 4.8 billion pounds of post-consumer plastics were recycled in 2020, representing a 5.7% decline from 2019.