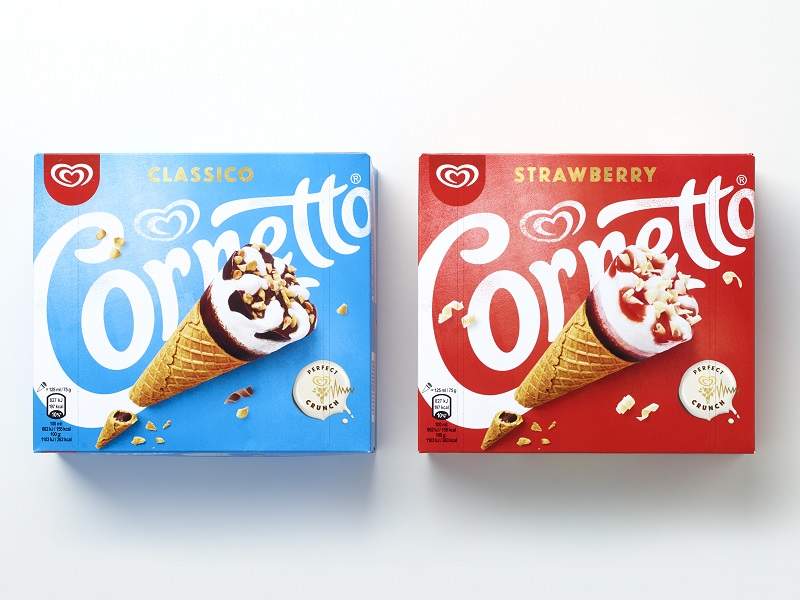 Brand design agency Design Bridge has redesigned the packaging and brand identity for Cornetto ice cream.
Cornetto, the ice cream range owned by Unilever, will appear in stores with a new look that will bring a coherent and up-to-date expression of its personality, according to Design Bridge.
The iconic ice cream will be launched with the slogan 'Making the Moment' in a bid to encourage customers to share ice cream together.
Design Bridge executive creative director Claire Robertshaw said: "The current Cornetto brand was being executed by local teams in individual markets, which resulted in inconsistencies in how the brand looked and felt around the world. It also felt outmoded with its young target audience and the way the world of food has moved on. Our challenge was to create the first global visual identity for Cornetto to express the brand's unique personality in a coherent and distinctive way that also felt relevant and engaging to consumers."
Design Bridge creative director Mike Stride added: "We kept the 'creaminess' and fluidity of the logo but made it simpler to give it a younger, fresher feel. We stripped it of its synthetic and artificial effects so that it reflects the genuine quality and real ingredients of the ice cream. This is combined with a new, natural texture on pack that adds a further sense of realness and tactility to the design. We also created a new colour palette, which used to vary widely from market to market, using a bright, optimistic sky blue and real food colours."
The Cornetto Mini packaging will feature eight dancing cones on the front that join together and form a long dancing line when put side by side, championing Design Bridge's plan to overlap the logo and product photography to give a sense of playfulness. The theme returns to the product's label, which reads sentences like 'keep in the freezer (and close to your heart)' and 'Best before… (anyone else gets them)'.
Unilever Global Brand director Barbara Cavicchia said: "Cornetto is such a well-loved brand all around the world and we wanted to encapsulate what people already love about it in one global visual identity while appealing to new generations of consumers. The new packaging really captures the authenticity of the brand in a simple yet distinctive way."