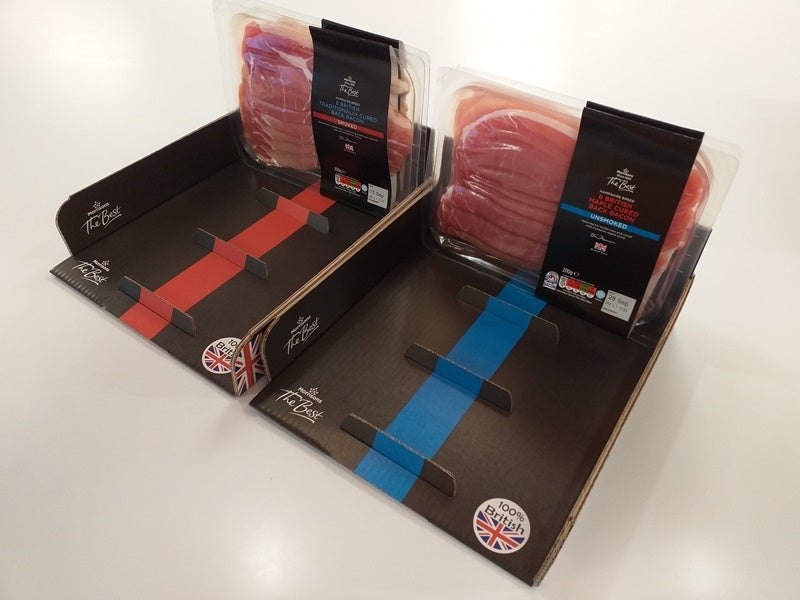 Packaging company DS Smith has improved Morrisons' Best Bacon packaging with its Retail Ready Packaging (RRP) solution that has 100% recyclable fibre-based corrugated design.
Morrisons employed a team of experts from DS Smith to produce an on-shelf pack for supermarkets.
The retailer is also planning to reduce the supply chain and material costs and enhance the customer experience by improving on-shelf product availability.
DS Smith strategic account manager Jo Cartwright said: "Our work with Morrisons demonstrates a real partner collaboration to deliver this innovation to meet the supermarket's relaunch date.
"The new RRP has helped increase sales and, importantly, has addressed a specific market need and meets Morrisons' circular economy commitment."
RRP's design was originally created to be viewed face-on. The design has asymmetrical sides, offering branding visuals in advance of reaching the product.
The fold-over section also provides the inside print opportunity, eliminating the need for double-face printing.
Farmers Boy (Morrisons manufacturing) procurement manager packaging / manufacturing Katherine Whitham said: "The solution that the DS Smith team devised perfectly fulfilled our Best Bacon re-launch brief. For us, the primary pack is king, and it is vital that the pack remains upright.
"We are delighted by the visual impact of the RRP and how it complements the product and primary pack. We believe it will create shelf disruption, encourage sales growth and boost market share."