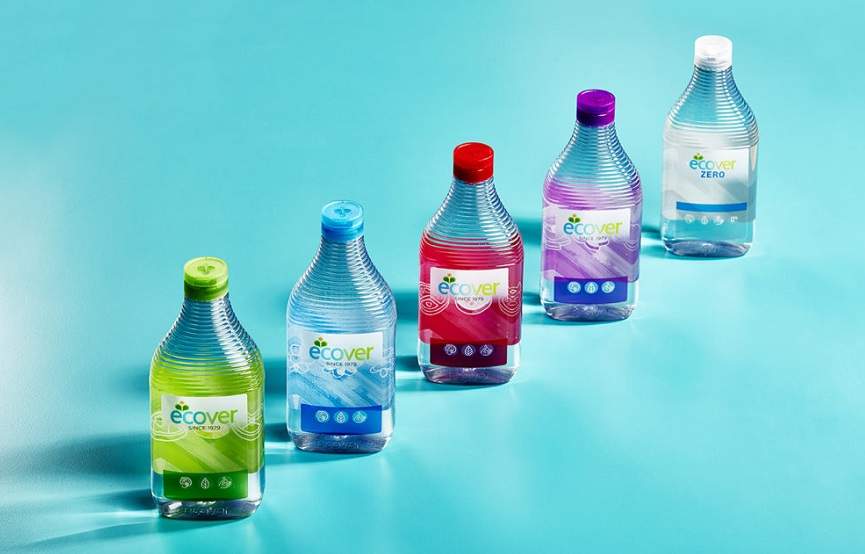 Belgium-based cleaning products manufacturer Ecover has launched a 100% post-consumer recycled plastic bottle for its line of core washing-up liquid products.
The company, which operates in the US and Europe, specialises in the creation of ecologically sound cleaning products.
Ecover 's new bottle is 100% recyclable and has been redesigned for the occasion. It is made from post-consumer polyethylene terephthalate (PET) that is sourced from Europe; its carbon footprint is also 70% lower than its previous, non-recycled plastic version.
Ryan McSorley, designer at Ecover , explained that the aim was to create a product that could be both sustainable and pleasing to the eye, the result being a bottle that fits in the hand but also references to the original cover and the brand's past.
He said: "Through the new design we wanted to capture the spirit of the Ecover brand, being true to its heritage and evolving it for the future. We have created a bottle that is more sustainable–100% recyclable and made from 100% recycled plastic–but also visually pleasing and practical, proving that aesthetics should not be a constraint for industry to use more recycled content.
"The transparent bottle shows off our dye-free formula inside and how much is left in the bottle. By choosing PET plastic we have been able to improve the squeezing of the bottle as we know that people want to get every last drop. We also redesigned the cap so the bottle can be stood upside down, ensuring no wasted washing-up liquid."
The bottle is transparent and so facilitates the recycling process; it also features redesigned caps that use less plastic. Thanks to this product, Ecover claims that it will save around 14 tonnes of polypropylene plastic from the manufacturing process every year.
David Kennedy, director of product experience at Ecover , said: "We've worked tirelessly to create a 100% recycled plastic bottle that is both durable and functional, and this hasn't been without its challenges.
"We designed, modelled and tested multiple iterations of the bottle until we were satisfied with the final product, and we're excited to launch it. This new bottle is just one part of our pledge to challenge and change our use of plastic. We have further goals for 2020 to help change the culture of using plastic as a disposable resource, doing what we can to put an end to plastic pollution."
The bottles are made in Germany and Switzerland and filled at in Ecover 's factory in Belgium, which features natural materials like wood and eco-bricks instead of steel.