Norway-based carton packaging company Elopak has agreed to acquire Naturepak Beverage for a cash and debt-free purchase price of €83m ($96m).
Naturepak Beverage is a joint venture formed by Gulf Industrial Group Company and Evergreen Packaging, the latter being a wholly owned subsidiary of Pactiv Evergreen.
The company supplies fresh liquid carton and packaging systems in the Middle East and Africa, operating manufacturing plants in Morocco and Saudi Arabia.
Naturepak Beverage operates in 16 countries, with an annual production capacity of 2.7 billion cartons across a range of product sizes.
Elopak agreed to buy the company after signing a share purchase agreement.
The addition is intended to strengthen Elopak's position in the region and will help it achieve organic revenue growth of 2-3% and expand its geographical presence.
Elopak CEO Thomas Körmendi said: "This transaction represents an important part of the growth ambitions we outlined to our shareholders during our initial public offering (IPO) this year.
"I am proud to take ownership of what we deem to be one of the highest quality assets in the region and to welcome the employees of Naturepak Beverage to the Elopak family.
"By establishing a presence in Morocco and Saudi Arabia, we can access important growth markets and deliver Elopak's brand portfolio to key local and international players.
"The transaction reflects our strong commitment to growth in the Middle East and Africa."
Once the deal is completed, Naturepak Beverage will be rebranded and integrated into Elopak's global production network.
Elopak intends to benefit from Naturepak Beverage's strategic customer base in the fresh beverage carton segment, primarily in Morocco's fresh dairy industry.
The deal is subject to a number of closing conditions, including antitrust approvals in Saudi Arabia and Morocco.
In August, Elopak added an eco-friendly aseptic carton, Pure-Pak eSense, to its sustainable packaging range.
Free Report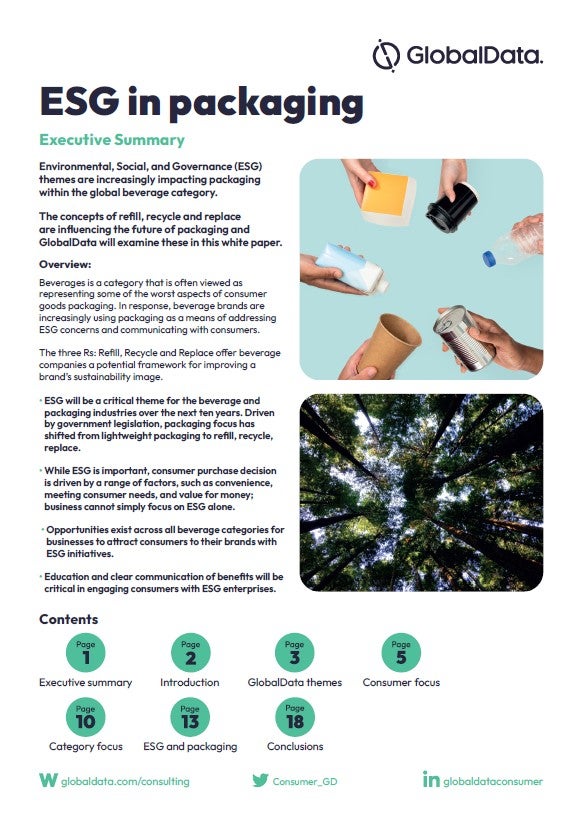 How is ESG transforming packaging in the beverages sector?
The beverages sector has already been re-shaped by increasing corporate and consumer consciousness of environmental, social and governance (ESG) issues around packaging. Now, amidst a raft of new regulations, those who get ahead of the curve may find new opportunities. Brands are increasingly using packaging as a means of addressing ESG concerns and communicating with consumers. Access GlobalData's new whitepaper, ESG in Packaging, to examine the challenges faced by companies, and understand how adapting to regulation around packaging, as well as appealing to ESG-conscious consumers, presents opportunities. The white paper covers:
Which regulations are governments looking to introduce?
How can beverage manufacturers get ahead of regulations?
How can packaging manufacturers help and how will consumers react?
What packaging and recycling innovations are required and what are the barriers to consumer engagement?
Zero in on how the industry operates in the EU and USA, exploring conclusions that remain relevant for other markets too, including Brazil, Canada, Russia and Turkey.
by GlobalData