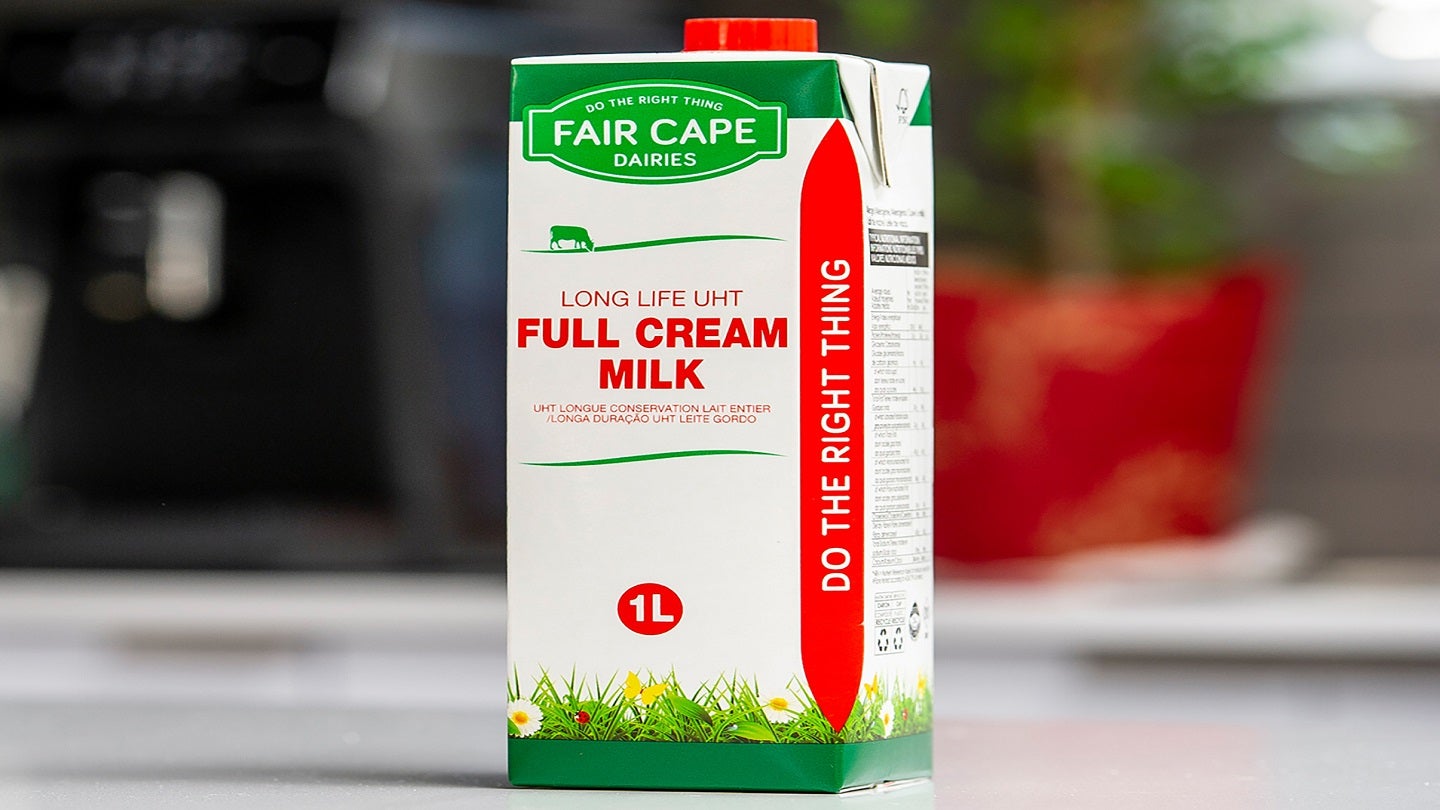 South African dairy product manufacturer Fair Cape Dairies has added a filling machine from aseptic carton supplier SIG to its operations.
The CFA 812 filling machine allows Fair Cape Dairies to offer its products in South Africa using SIG's combistyle carton packs.
Available in 1l and 500ml sizes, combistyle features a new shaped corner designed to improve grip safety and provide more functionality and convenience.
Fair Cape Dairies has launched UHT milk in combistyle 1,000ml carton packs.
The company expanded its partnership with SIG in response to growing demand for UHT milk in carton packs.
Fair Cape Dairies Group CFO JJ Olivier said: "We are very excited to have partnered with SIG on adding a new SIG filling machine that will allow us to offer the first unique combistyle carton pack in South Africa.
"Our experience working with SIG provided us with a fantastic performance, world class efficiency and reduction in waste that supports our sustainability journey.
"We continue to expand our portfolio to offer a bigger range of products for our customers.
"The pack with the shaped corner panel stands out on the shelf and offers extra convenience."
The CFA 812 machine is intended to offer users more flexibility in packaging different formats and sizes.
Fair Cape Dairies previously installed two SIG CFA 312 filling machines, which use SIG's combiblocSlimline carton packs.
The company is now offering combiblocSlimline, combiblocMidi, combifitMidi and combistyle among other packaging formats.
SIG Middle East and Africa president and general manager Abdelghany Eladib said: "combistyle is one of our latest innovations and Fair Cape Dairies is the perfect partner to officially introduce it in the South African market.
"combistyle exemplifies SIG's commitment to deliver innovative, differentiated product and packaging solutions that help businesses satisfy ever-changing needs.""
Last month, Chilean foodtech company NotCo adopted SIG's carton packs for its NotCreme and NotMilk High Protein products.