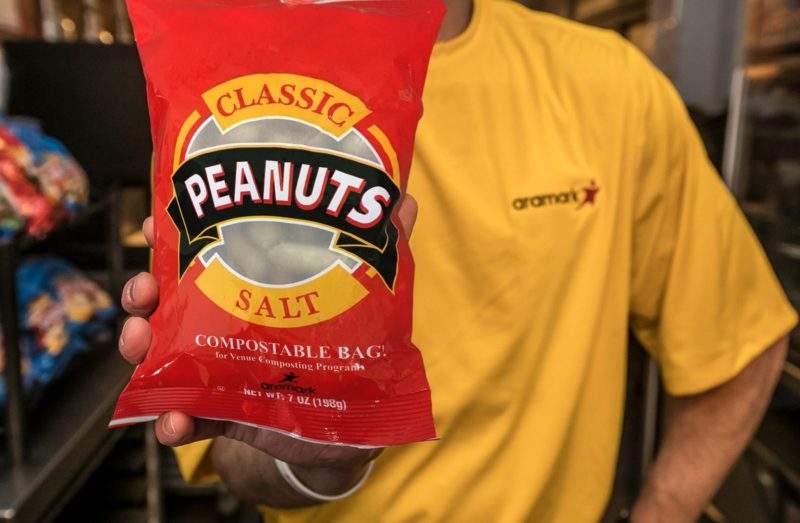 Peanuts in compostable bags will be sold for the first time in all areas of the US Bank Stadium in Minneapolis on occasion of Super Bowl LII, the US sports event of the year.
The match, which takes place on 4 February, will mark the first-ever game to sell a pre-packed compostable bag of one of America's favourite snacks.
The products will be available in all areas of the stadium thanks to Amarak, the snacks provider that debuted and tested the bag itself last November at the Arrowhead Stadium during the match between the Buffalo Bills and the Kansas City Chiefs.
During the fixture, and for the rest of the season, compostable peanut packaging was sold throughout general concessions and in-seat vending at the Chief's home ground with the view to expand to other areas.
The initiative was part of a project carried by team's 'Extra Yard for the Environment' project, a scheme that aims to implement new green policies at its sports ground while raising awareness for sustainability efforts at Arrowhead Stadium.
The plan's success encouraged other venues to do the same, leading Amarak, which sells more than 1.1 million bags of peanuts annually at sporting events, to embark on a similar initiative at the US Bank Stadium on Sunday night.
The sale of the compostable bags will be part of a larger programme called Rush2Recycle, whose goal is to recover more than 40 tonnes of stadium waste during and after the game.
Amarak teamed up with the US Bank Stadium, the Minnesota Sports Facilities Authority and PepsiCo in the first-ever attempt to host a zero-waste Super Bowl.
Other than buying the pre-packed containers, attendees will be able to use compostable service ware including cups, trays, straws and utensils.
According to Amarak, a three-bin collection system for compost, recycling and trash has been installed in the stadium's main kitchen. The company also says that bins will be available at all concessions stands, portable locations, suites and club spaces.
Roberta Barbieri, vice president of global water and environmental solutions at PepsiCo , said: "Recovery and recycling rates throughout the world have significant opportunity for improvement.
"And while we cannot change those rates on our own, we do have the capacity to help influence them through our own resources and through strategic partnerships like this great one with the NFL, Aramark , and others. There's no grander stage in American sports than the Super Bowl to draw attention to the important issue of recycling."