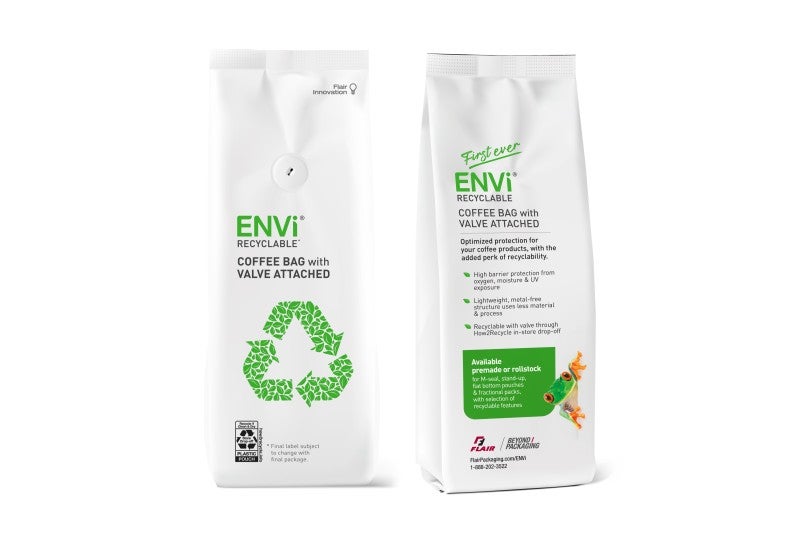 Canadian packaging company Flair Flexible is set to launch polyethylene (PE) mono-material coffee bags at the Private Label Manufacturers' Association (PLMA) trade show, which will be held in Chicago from 11 to 13 November.
Marketed as ENVi, the new bags are made with white, high-barrier films for ultraviolet, oxygen and moisture protection.
The packaging features strong seals to prevent package leaks and a one-way degassing valve to enhance its internal environment.
Flair's recyclable ENVi bags are designed to improve sustainability without compromising protection and performance.
The packaging is specifically designed for roasted coffee.
Flair claimed that ENVi is the first bag to prequalify for How2Recycle store drop-off labels with its valve intact.
Flair technology director Hanil Lee said: "Qualities that make a roast unique start to change almost immediately after they're achieved, so packaging them becomes a fine balance of keeping the right compounds in while letting the undesirable ones out.
"This balance is easier with conventional packages because you combine multiple materials for the desired performance.
"For coffee, this involves a foil layer (and) multiple types of plastic for printing, adhesion (and) durability.
"The innovation behind ENVi is that it stays true to its PE mono-material construction, without losing the high level of protection and finished appeal that coffee needs to stay competitive."
The ENVi bag is the latest addition to Flair's ENVi Recyclable PE solution range, which the company launched in 2017 with one format and two film structures.
The programme's portfolio currently includes various pouch formats and white and clear film structures in high and standard barriers.
Founded in 1992, Flair works with brands to understand their sustainability goals and develop solutions to help achieve them.
The company's services include custom printing with full graphics support, as well as altering non-recyclable materials to make them thinner, lightweight or metal-free.