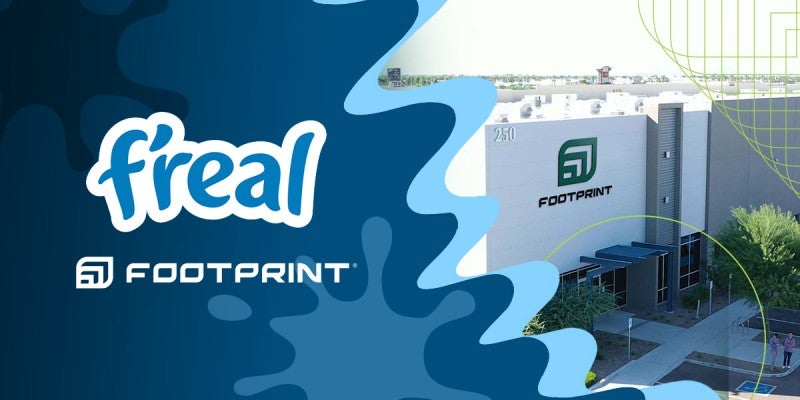 US-based material technology company Footprint has partnered with beverage brand f'real to co-develop a plastic-free dairy cup.
Footprint said that several design factors will be taken into consideration to build the moulded fibre cup, which will act as a sustainable alternative to f'real's signature dairy cup.
This design consideration aims to ensure the cup works 'seamlessly' with f'real's existing and future equipment, including its 'powerful' mixing technology.
In addition, the cups will use Print-to-Fibre Technology, Footprint's flexographic print process for moulded fibre cups.
The process is claimed to offer high-quality, colour-rich printing on fibre surfaces while removing the need for a separate plastic label on the product.
From this month, Footprint will put the cup into 'extensive' testing to ensure it meets all design expectations.
Footprint co-founder and CEO Troy Swope said: "Footprint's engineers are always up for a challenge and are focused on perfecting the intricate design and engineering of this cup, which we look forward to bringing to market.
"Working with customers like f'real allows us to highlight the significant science and engineering that goes into Footprint's solutions while reinforcing our commitment to collaborating with customers to develop a product tailored to their unique needs."
The collaboration is in line with f'real's goal to adopt fully recyclable and responsibly sourced packaging instead of single-use plastics for all its US operations by 2025.
The company is a wholly owned subsidiary of Rich Products, a privately held food product company based in New York.
Rich Products global equipment platform senior director Nikkie McBrayer said: "Like many sustainably minded companies, we're always looking to improve the impact we're making on the environment and that includes the packaging of our delicious products.
"The opportunity to collaborate with Footprint to create a positive change while upholding packaging performance for our f'real milkshake and smoothie cups is truly a win-win."