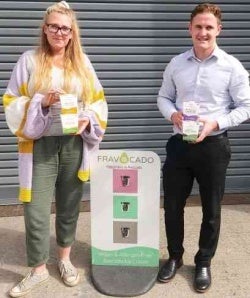 UK-based vegan ice cream brand Fravocado has partnered with digital printing company Newton Print to create a fully recyclable packaging solution.
The fully customisable sleeve is made from freezer-safe box board and replaces the brand's non-recyclable printed tubs.
Fravocado founder and CEO Becky Osborne says: "We've been working hard to move away from non-recyclable packaging, as we wish to be as eco-friendly and sustainable as possible.
"We approached Newton Print to help us develop a sleeve to replace our expensive printed tubs with something that was recyclable but still ticked all the compliance boxes."
The sleeve design forms a printed wrap around the tub and acts as a tamper-evident seal.
The sustainable printed packaging removes the need to print thousands of printed tubs and replaces the plastic adhesive tamper-proof seal.
It also helps reduce waste and plastic use in the company's packaging.
Fravocado offers fully plant-based ice cream that does not contain gluten, nuts or soya.
The company is focused on replacing its non-recyclable packaging with sustainable alternatives.
Osborne added: "We're very pleased with the results. We now have lovely, printed packaging that has an impactful on-shelf presence.
"This is vital as we supply independent stores nationwide, as well as leading supermarkets.
"Standing out in the crowd is important. The way your product looks is the first thing people take in before they read all the good stuff about it.
"Now we have great on-shelf presence and have succeeded in reducing our non-recyclable packaging. It's a win-win."
Last March, US-based packaging developer Evergreen Packaging announced that plant-based ice cream brand NadaMoo! had started using its Sentinel Fully Renewable Ice Cream Board.
The frozen coconut milk product now uses Evergreen Packaging's paper-based packaging, which is made with a renewable coating derived from sugarcane.