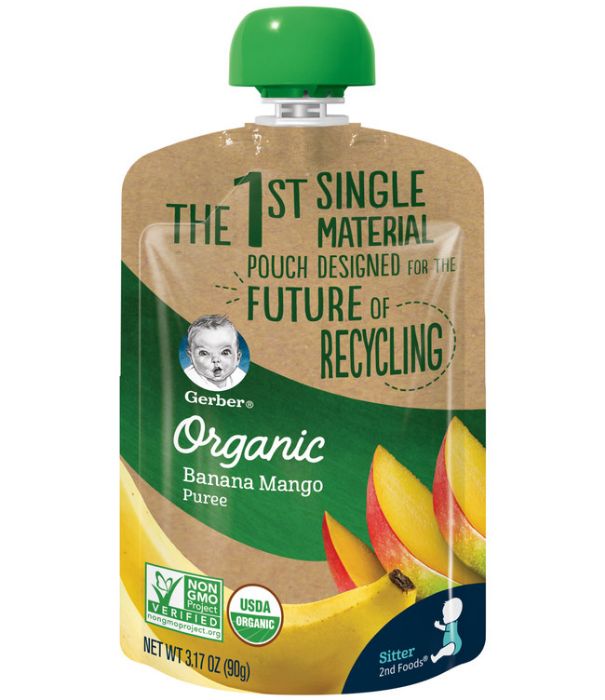 Nestlé unit Gerber has unveiled a single-material baby food pouch as part of its efforts to increase recycling and support the concept of a circular economy.
The new pouch is made of recycled plastic that is safe for food. It is recyclable through the company's national recycling programme with waste management company TerraCycle.
Gerber will initially use the pouch to package its Organic Banana Mango Puree and start selling it exclusively through its website from May 2020.
It will eventually use the pouch to package other products.
Gerber Packaging associate director Tony Dzikowicz said: "Designing with a single material creates greater value for the recycling industry, promoting the development of better recycling infrastructure.
"After more than two years of experimenting and innovating, we were able to help create a first-of-its-kind solution for baby food that meets the safety and freshness requirements for our little ones."
Founded in 1928, Gerber Products Company focuses on manufacturing baby food that includes infant formula, cereals, juices, fruits and vegetables.
The company joined the Nestlé Group in 2007.
Commenting on the new initiative, Gerber president and CEO Bill Partyka said: "We believe the baby food industry should help create a world where babies thrive, and initiatives like this one help us go beyond nutrition to protect the planet.
"We're committed to making 100% of our packaging recyclable or reusable by 2025, and this pouch is an important step in promoting the development of better recycling infrastructure."
In January, Nestlé introduced Nesquik All Natural powder in a recyclable paper pouch.