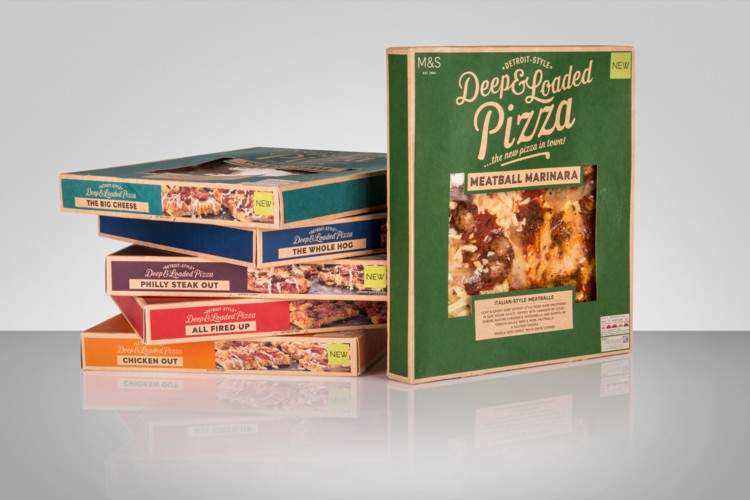 British retailer Marks and Spencer (M&S) has joined forces with folding carton manufacturer Graphic Packaging International (GPI) to develop an oven-ready pizza packaging.
The package's design will enable customers to remove the outer box using a tear strip and put the food and cartonboard insert tray straight inside the oven.
Graphic Packaging also teamed up with 2 Sisters Food Group, as the packaging will be used to cook the supermarket's Detroit-Style Deep & Loaded Pizzas, which are characterised by melting cheese that goes down the sides of the base.
Marks and Spencer will use the packaging for several pizzas from its range, including Meatball Marinara, The Big Cheese, The Whole Hog, Philly Steak Out, All Fired Up and Chicken Out.
According to GPI, the tray facilitates air circulation and moisture dispersal, helping the base remain crispy, and the fold-up sides prevent cheese from melting in the oven.
The packaging's design also keeps the tray dry, allowing customers to take the pizza out of the oven safely and cut it without causing damage.
Lauren Hutchinson, key account manager at GPI, said: "We were challenged to create an ovenable cartonboard tray that would achieve a crispy base and eliminate the possibility of superfluous melted cheese spilling over the edge of the pizza and into the appliance.
"Our collaborative development process with 2 Sisters Food Group has realised a final tray that is completely ovenable and can consistently deliver the perfect Detroit-style pizza."
She concluded: "We are extremely pleased with the end result, which offers the ultimate in convenience and reflects the takeaway experience for the customer."