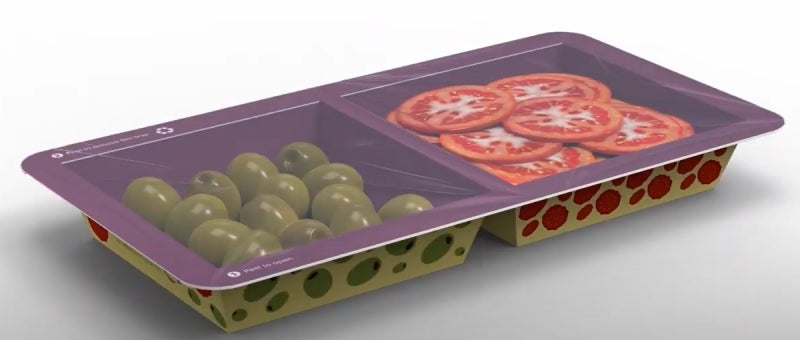 Food industry packaging solution provider Harpak-ULMA has officially introduced its new sustainable food packaging technology.  
Named as PaperSeal, the new packaging technology is part of the company's initiative to encourage green packaging alternatives and lower the sue of plastic across the food industry.
Formed with pre-cut film, there's no flop or film hanging over the tray, thereby reducing film waste.
Manufactured using renewable fibre, each tray features 80%-90% paperboard and 10%-20% film based on dimensions.
Further, the liner can be easily separated from the used tray, thus aiding in recycling.
Harpak-ULMA Tray Seal product manager Carlo Bergonzi said: "PaperSeal's design works easily in existing denesters and conveyors – we know, we've tested it. Put a new set of tooling in your Tray sealer and you're ready to go.
"It's extremely adaptable to your existing equipment and no more expensive to produce than plastic trays."
The packaging concept is the outcome of a partnership between G Mondini and Graphic Packaging International.
The technology can accommodate one-dimensional multi-compartment trays and add header / hanging features to the package.
PaperSeal was officially launched in North American markets in February this year and in Europe in May last year. It is also available in Europe.
Harpak-ULMA tray packaging line sales vice-president Jerry Rundle said: "We recognise that the North American market dynamics are different than European markets.
"We plan to work with some existing customers that already own a Mondini Tray sealer and want to trial sustainable technology on a new product line.
"It's a low-risk, low-cost scenario. We can re-tool a line in ten to 12 weeks and they can be producing a new, sustainable package style at moderate volumes pretty quickly."
In May this year, Harpak-ULMA announced a new suite of packaging design and prototyping services for producers to develop and operationalise innovative packaging concepts.