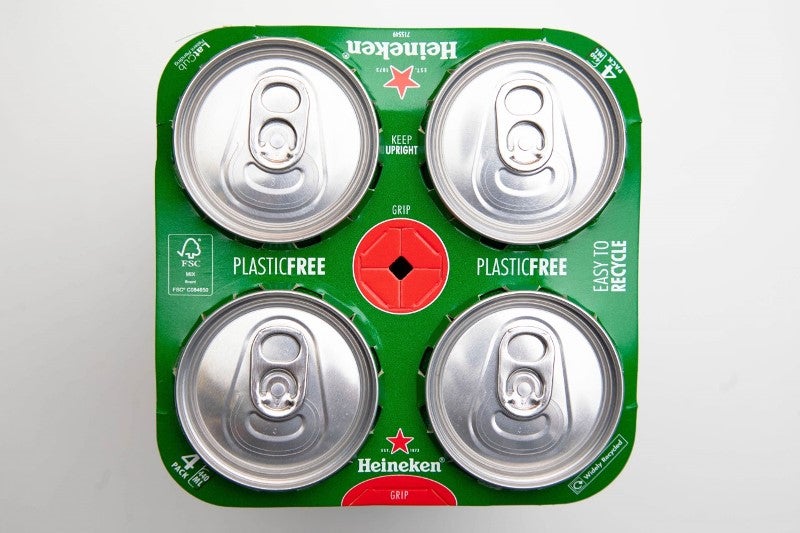 Brewing company Heineken has enhanced its sustainability commitment with the introduction of 100% plastic-free cardboard topper in UK supermarkets.
The company announced the plans to stop using plastic rings for multipack cans and replace them with cardboard toppers in November last year.
Named as Green Grip, the new topper will be initially rolled out on Heineken, Foster's and Kronenbourg 1664 multi-pack cans before introducing it across its entire beer and cider portfolio.
The combination of the new topper and shrink wrapping on consumer packs will help the company in removing more than 517 tonnes of plastic a year.
Heineken UK marketing director Michael Gillane said: "We have been working on a solution for several years – one that is durable, totally recyclable, and completely plastic-free.
"Importantly, this is an innovation that can be used at scale on hundreds of millions of cans every year.
"The use of innovative technology, combined with the hard work of our team in Manchester, meant we stay on track to achieve our ambition to eliminate single-use plastic on our products from supermarket shelves.
"This is a significant milestone in our journey, and we look forward to rolling the innovation out across the rest of our beer and cider portfolio in 2021."
The company leveraged virtual technology in partially installing the machinery for the new packaging at its brewery in Manchester. They collaborate with Italian engineers using smart glasses for the installation process.
The technology was piloted at Heineken UK's Manchester brewery, with its Tadcaster and Hereford sites to follow in March 2021.
Recently, Coca-Cola European Partners (CCEP) launched a new paperboard packaging solution, CanCollar, which is certified by the Programme for the Endorsement of Forest Certification (PEFC) and designed for multipack cans in Spain.