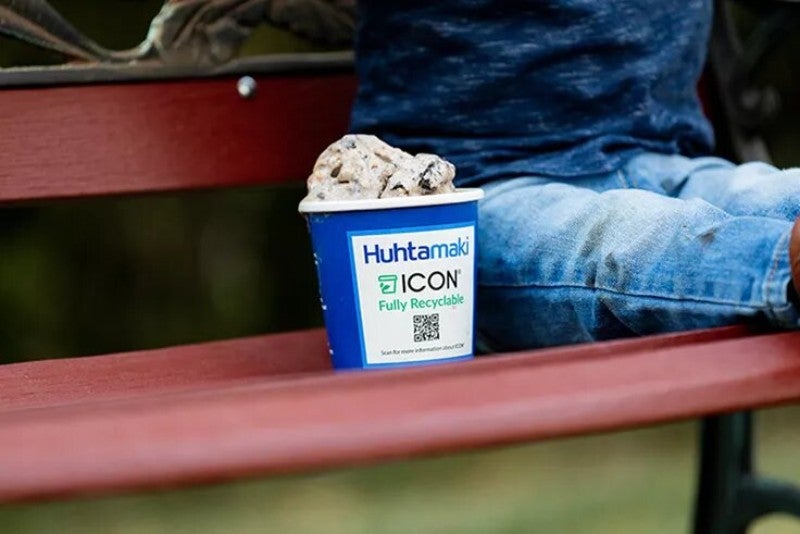 Finnish consumer packaging company Huhtamaki has developed a recyclable packaging solution for the ice cream market.
Made from 95% renewable biobased material, the ICON packaging combines the company's water-based barrier coating with paperboard certified by the Sustainable Forestry Initiative (SFI).
Both the cup and lid can be recycled similarly to other paper products such as folded carton packaging in communities with paper product recycling programmes.
The packaging aims to help companies switch to paper-based packaging formats and alternative sustainable barriers while maintaining functionality like structural integrity in frozen supply chains.
It also offers additional benefits such as more opportunities to decorate and shape the packaging, as well as full-cover printing options for marketing purposes.
All ICON ice cream packaging products feature a QR code that consumers can scan to find out how to recycle the packaging after use.
Huhtamaki said that it developed the packaging solution using its knowledge of barrier functionality and paper forming.
The introduction of ICON packaging is in line with the company's goal to become the first choice in sustainable packaging solutions.
The switch to ICON from standard paper cups with Poly is expected to remove 1.3t of polyethylene for every million cups.
Huhtamaki North America president Ann O'Hara said: "Our paper-based technology and barrier solutions are the key differentiators in ICON® ice cream packaging.
"The technology allows ice cream packaging to enter the existing North American recycling stream more easily."
In September this year, Huhtamaki launched the Cup Collective programme, a paper cup recycling initiative in Europe, alongside paper packaging company Stora Enso.
The Cup Collective scheme aims to recycle used paper cups on an industrial scale and provide consumers and businesses with convenient access to used paper cups, which can then be reformed into valuable recycled raw material.