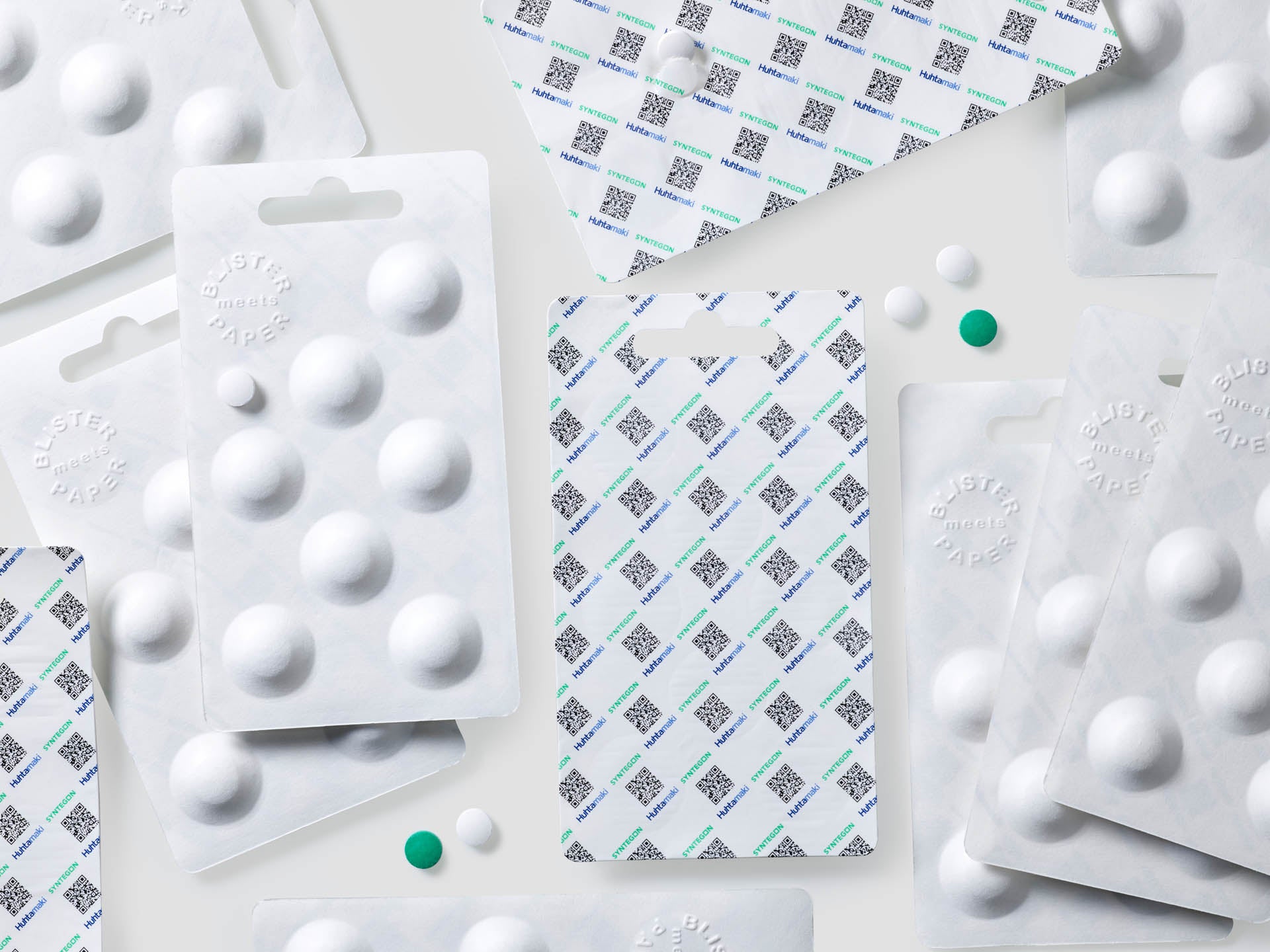 Finnish sustainable packaging company Huhtamaki has introduced the first paper-based blister solution for the pharmaceutical and healthcare industries.
Named Push Tab paper, the tablet packaging acts as a sustainable replacement for traditional push-through packaging, which is typically made from thermoformed polyvinyl chloride (PVC) and aluminium.
More than 75% of the material used to make the paper is sourced from suppliers certified by the Forest Stewardship Council (FSC).
Push Tab paper also features an advanced barrier coating technology to make it sealable and is designed to meet the strict safety requirements of regulated pharmaceutical packaging.
Huhtamaki developed the Push Tab product in collaboration with German processing and packaging technology provider Syntegon, using Syntegon's paper shaping technology and machinery to process and form the material.
Earlier this month, the packaging was given the German Packaging Award for sustainability by the German Packaging Institute.
Huhtamaki flexible packaging sales manager Fabio Daidone said: "We are proud to introduce a new, more sustainable packaging solution for tablets for the healthcare sector that has high growth potential.
"European sales of flexible packaging in the Pharmaceuticals category had an estimated value of €1.1bn ($1.3bn) last year, around 80% of which was blister packaging.
"We are happy to help our customers respond to opportunities with Push Tab paper, designed for circularity, which presents the first sustainable alternative for this type of packaging."
Huhtamaki has pledged to make its production processes carbon-neutral and its entire product portfolio recyclable, compostable or reusable by 2030.
Earlier this month, the company launched a fully plastic-free carton, named Futuro, for packaging cooked coloured eggs in Europe.
The carton is made from post-consumer recycled fibre and has a flapless design, which reduces its weight by 10% compared with standard fibre cartons.
The packaging can be recycled in Germany's paper and cardboard stream and composted at home or at industrial composting facilities.