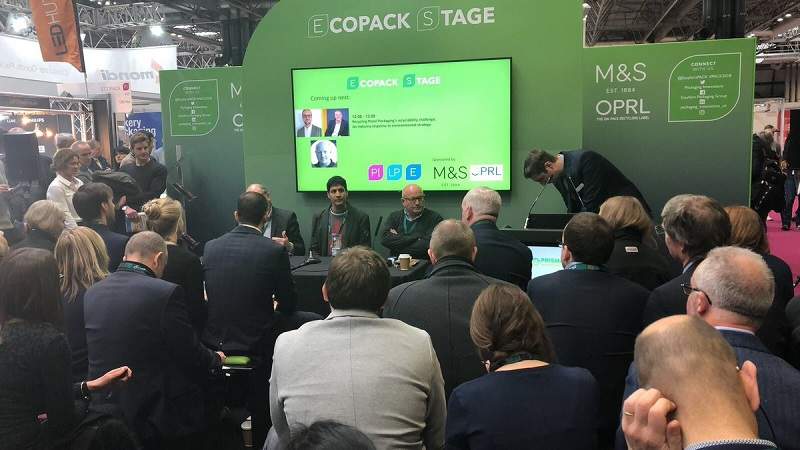 There is urgent need to regulate and improve how packaging recyclability is perceived by consumers and brands in our society, industry leaders at Packaging Innovations 2018 said.
Sustainability and recycling were among the hottest topics at event, which took place in Birmingham on February 28 despite extremely adverse weather conditions.
As temperatures quickly decreased to an impressive -7°C and snow furiously raged outside the EasyFairs pavilion, Martin Kresh, executive director of the Food Packaging Association, David Harding-Brown, director and head of sustainability at 1HQ and Sanjay Patel, founding partner at Packaging Collective, discussed the challenges of recyclability in our society.
As expected, the two themes took centre stage throughout the day. Concerns about the impact of plastic on the environment and the necessity to develop methods to produce sustainable packaging have grown impressively over the past few weeks, and the three panellists had a chance to offer their own perspective on the matter.
Overall, all contributors agreed that the current state of affairs has to change. A growing number of consumers is keen on recycling and wants to know more about it, but the absence of guidance and information on the matter make things much harder for the industry and people.
"Part of the issue is that people don't understand the value of packaging, we don't recycle enough and consumers don't understand the intrinsic value of our materials, which could risk being lost if there is not enough information on the matter," said Sanjay Patel who worked with Coca Cola for long and explained that a plastic bottle can last for 70 years if well recycled.
Claiming that even his family has no clear idea of what to recycle and how to do it, he said that the industry needs to simplify the narrative for consumers.
"If we have a mass marketing campaign cross-retailer, cross-brand, packaging and category, we can build a narrative that could simplify and make it obvious to people. It could work thanks to the support from local authorities when it comes to the infrastructure, and if we send a clear message to consumers."
The lack of communication and regulation between the actors in the industry, the government and consumers was at the core of Martin Kresh's view: "Everybody in our society wants to have more recycling, why do we make it so easy for people to litter?. We can't confuse people by creating and explaining all sorts of solutions for packaging."
Kresh added: "Society wants something but is struggling to know how to do it. Everyone in the packaging industry should make it as simple as possible for consumers and businesses in our society to play their part in recycling."
He also added that although several actors would be willing to invest more funds into recycling, many complain that there is not enough transparency regarding where the money ends up. He said: "We have too many views out there – from biodegradables to compostables – but we don't tell consumers what to do with them and no one knows what to do with all these solutions."
The panellists agreed that the Government should continue to actively engage in the debate and contribute to informing, funding and regulating recycling initiatives.
According to David Harding-Brown, it should step up to the plate: "The Government should support our initiatives especially when it comes to research and development, or when manufacturers develop new substrates."
"For many years, the Government wasn't interested in recycling but now things are changing," added Kresh. "It has taken ownership of the environment plans and structures, and we need its help if we want to send a clear, aligned message from the industry to consumers."