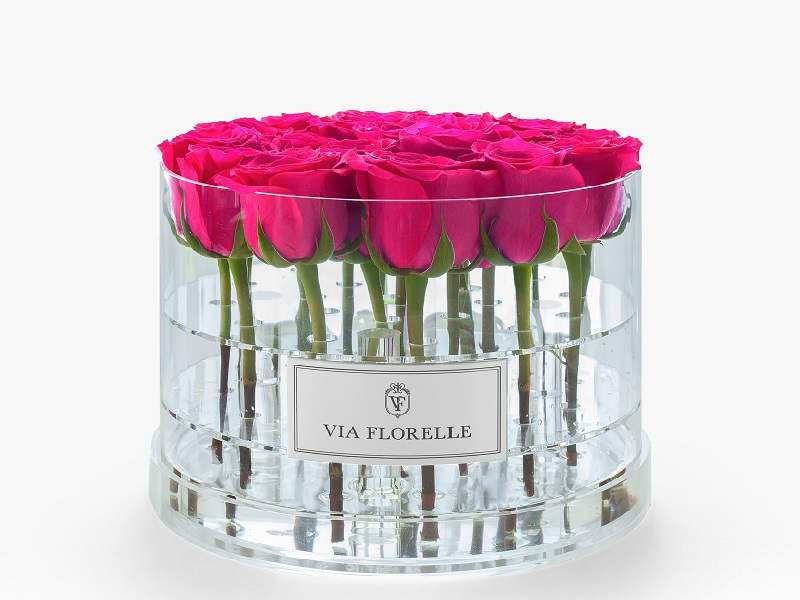 Luxury packaging supplier IPL Packaging has created a container for flowers delivered by USA-based online floral arrangement and delivery service Via Florelle.
Via Florelle is a mother-daughter company that hand delivers roses in different colours and packaging to New York customers and sends them via courier to Los Angeles.
The brand reportedly needed a packaging that could help preserve the roses, which are cultivated by artisans in Ecuadorian farms, making sure that they would look as beautiful at delivery as when first picked.
Via Florelle asked IPL Packaging to design and create a box able to hold each bloom individually but that would also look good once delivered.
As a result, the North American manufacturer created a square sleek and linear square box made of premium crystal acrylic that, according to Via Florelle's website, allows 'the blooms to seduce for themselves'.
The container has a lid and base along two inner layered levels—one at the top and the other at the bottom—with die-cut holes that allow the blossoms to be inserted and arranged.
Insert sheets are attached to each other thanks to round acrylic 'legs' that keep the roses steady but also allow them to be removed as one unit. The box features the Via Florelle brand on an aluminium plaque with a metallic printing.
IPL has offices in the US, Europe and Africa, as well as manufacturing operations in Asia. Earlier this week, the company designed a tamper evident and IML capable set of containers for the food industry.
IPL recently announced its commitment to using sustainable materials in a bid to help safeguard the environment.
IPL Innovation and Design manager LB Odendaal said: "The IPL Packaging Research and Development team is constantly working to develop new materials and processes that can deliver more sustainable packaging solutions to our clients. Amongst these solutions, paper and starch mouldings and fitments offer renewable, natural alternatives to plastic – and lighten the load on the planet."