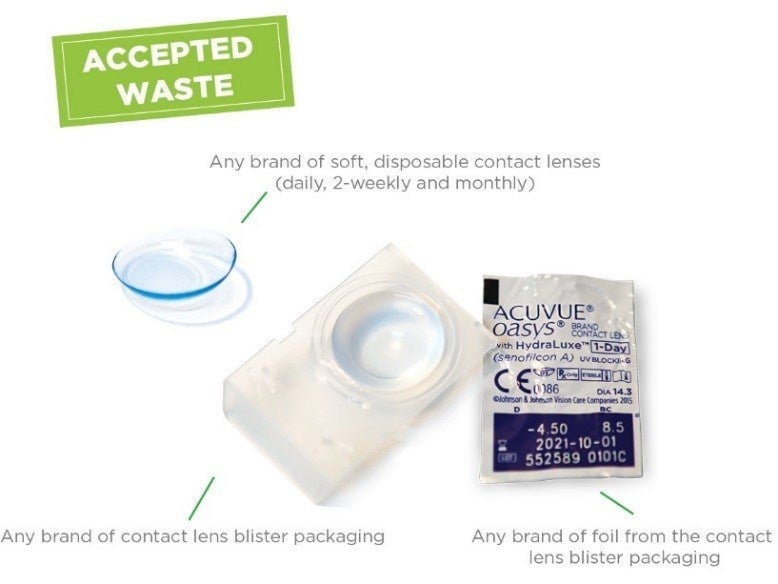 Johnson & Johnson Vision has launched the ACUVUE contact lens recycling programme, the 'UK's first free' contact lens recycling programme.
According to research by the company, 39% of contact lenses wearers believe they can recycle lenses or are not certain if they can. Consumers currently have to independently find a paid-for recycling service.
Developed in collaboration with post-consumer waste collection and reuse specialist TerraCycle, the programme is rolling out at Boots Opticians and select independent practices.
Available to use for all soft lenses, regardless of brand, the UK's 3.7 million contact lens wearers will be able to recycle their contact lenses, and blister and foil packaging, which will be converted them into new products such as outdoor furniture and plastic lumber. Johnson & Johnson said the Vision Acuvue recycling programme aims to reduce plastic landfill and waterway waste.
Johnson & Johnson Medical area vice president, Europe, Middle East and Africa, vision care Sandra Rasche said: "77% of British contact lens wearers said they would recycle their contact lenses if they could and we share their interest in reducing the amount of plastics in the environment. As a business, we are committed to doing our part to combat climate change, protect our planet's natural resources and reduce waste and this new UK recycling programme represents the next step in our company's sustainability commitment."
Consumers will have the choice between using a home collection service via courier or public recycling drop-off points, located at optical stores across the UK, including Boots Opticians and independent stores. The partnership will provide 1,000 public drop-off points with these stores over a period of time.
The company advised customers to check the Acuvue and TerraCycle websites for details on their nearest public recycling drop-off points and recycle from home service.