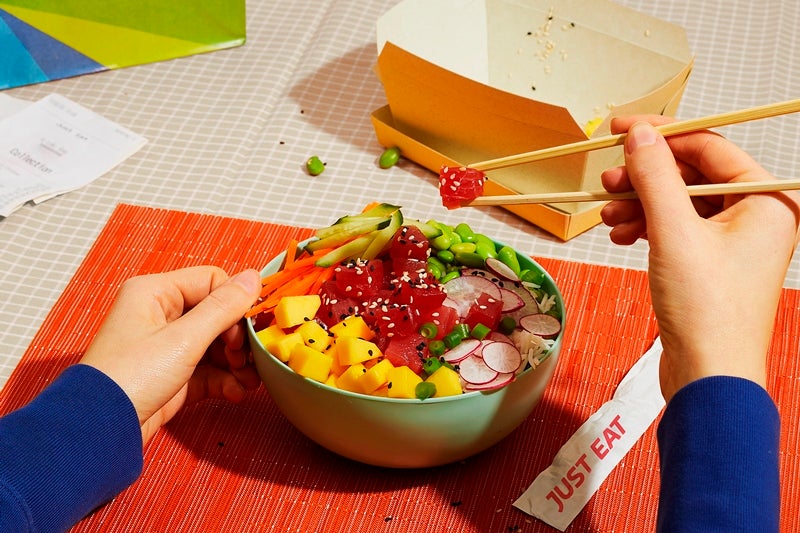 British online food delivery platform Just Eat has partnered with sustainable packaging company Notpla to launch a water-resistant recyclable box for the takeaway sector.
The seaweed-lined box is made from tree and grass pulp with no synthetic additives. It degrades within four weeks when put in a home compost.
With the new launch, Just Eat seeks to reduce plastic box waste in the takeaway industry that uses approximately half a billion plastic takeaway boxes every year.
The launch builds on the existing partnership of the two companies that had previously trialled the use of seaweed-based sauce sachets to replace plastic sachets.
Just Eat UK managing director Andrew Kenny said: "From removing single-use plastics to pioneering the use of seaweed sauce sachets, we have already taken a number of positive steps to encourage more environmentally friendly behaviour among our restaurant partners.
"Over half a billion plastic boxes are used across the takeaway industry every year and we know that eventually, they end up in a landfill.
"This is why we have been working closely with Notpla to create an innovative alternative that is recyclable, home-compostable and which degrades in a matter of weeks."
Currently, the recyclable box is being piloted in London with three Just Eat restaurant partners.
Following the trial, the food delivery service will explore a general roll-out across the UK and other markets.
Notpla co-CEO Pierre Paslier said: "Cardboard takeaway boxes either contain synthetic additives or are lined with plastic.
"With this box, we are offering a real plastic-free, naturally biodegradable option for the takeaway market. Just Eat is a great driver for more sustainable packaging and we are really excited to help them shake up the industry."