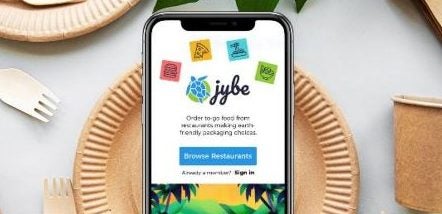 Self-funded start-up JYBE has launched a new app that helps consumers find restaurants using sustainable packaging.
Launched in Los Angeles and the San Francisco Bay area, the app is designed to help solve the single-use plastic crisis across the restaurant industry.
The app offers user reviews and recommendations on sustainable restaurants that leverage eco-friendly packaging choices.
Additionally, it supports restaurants and food industry professionals to integrate more sustainable packaging practices into their businesses.
The app has nearly 400 listings in Los Angeles and quickly expanding to San Francisco Bay area. It will be available at app.gojybe.com via mobile device.
JYBE co-founder and CEO Alison Diamond said: "The restaurant industry in the era of the global pandemic looks completely different, as restaurants turn to takeout and delivery to maintain business and serve customers. With that comes an increase in takeout packaging.
"We're launching an app that allows users to find restaurants using sustainable packaging with the ability to promote the transition to eco-friendly products through consumer demand.
"The goal is to educate diners and restaurants alike and lead a cultural shift on par with reusable supermarket shopping bags or the elimination of plastic straws."
JYBE's "Sustainability Bill of Rights" promotes reusables, aluminum, paper, glass, and biodegradables.
In 2021, JYBE plans to expand in Portland, Seattle, Denver/Boulder, Boston, Chicago, New York City and DC.