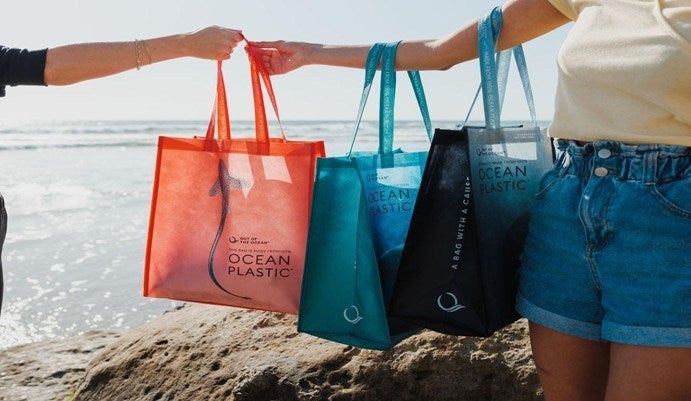 US-based sustainable packaging company Keepcool has launched reusable bags made entirely from ocean plastic for retail firm Costco.
The Out of the Ocean bags are available in three packs in all Costco stores in San Diego, California, as well as online at outoftheocean.com.
The extra-large capacity bags come with a dual strap to carry in hand or over the shoulder and feature internal pockets for sauce jars or olive oil bottles.
KeepCool said that each Out of the Ocean reusable shopping bag takes away the equivalent of three plastic bottles from oceans and waterways.
The move is in line with the company's commitment to reducing, reusing and recycling to create a circular economy for ocean plastic.
The Out of the Ocean bags feature artwork from multi-award-winning international photographer Grant Thomas.
KeepCool CEO Pierre Barlier said: "Out of the Ocean marks another major milestone in KeepCool's ongoing commitment to sustainability.
"Fifteen years after launching the world's first reusable bag made of recycled plastic bottles, we're proud to launch Out of the Ocean Reusable Shopping Bags and Foldable Totes made exclusively from plastic waste collected from our oceans.
"We are happy to be part of an ecosystem that is doing its part to preserve and protect our planet."
KeepCool has been promoting the use of post-consumer waste as a raw material source for more than 20 years.
The company aims to 'give new life' to ocean plastic while creating awareness and impact towards protecting the oceans.
Last year, Ocean Spray and Bryce developed a recyclable stand-up-pouch for Ocean Spray's Craisins dried cranberries.
The pouch is made from Bryce's BryCyclable high-performance polyethylene and used the company's high-definition flexographic printing, high-opacity inks and registered matte coatings.
It was initially sold at costco.com and other club stores in both roll stock and pre-made stand-up-pouch formats.