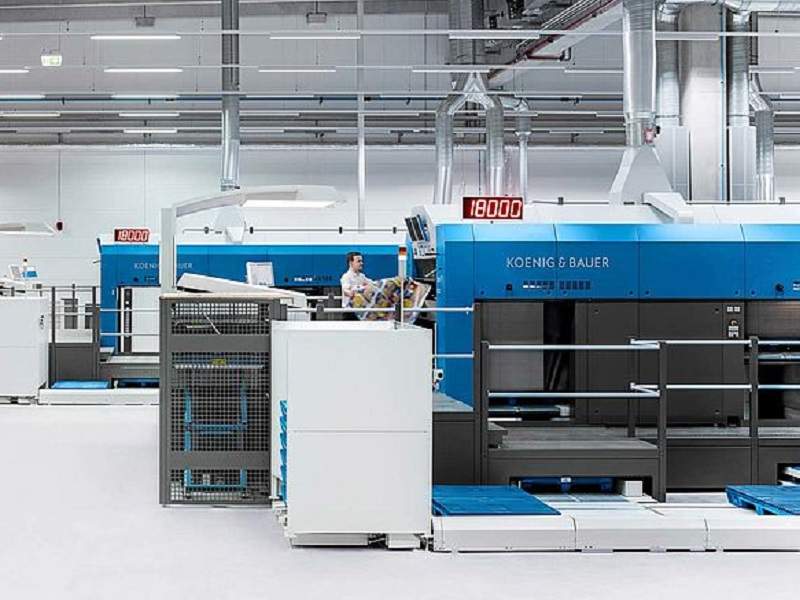 German printing presses supplier Koenig & Bauer Group has announced it is on track to meet the targets set last year despite a fall in revenues by 15.1% in the first quarter of 2019.
Sales dropped from €259.1m in the first quarter of 2017 to €217.3m in the period ended 31 March 2018. This included a drop of 22.1% in revenues in the company's Sheetfed division, and a 12.5% decrease in its Special presses segment, while sales were up by 3.6% in Digital & Web. Service revenue also rose from €67.4m in 2017 to €71.8m in the first quarter of 2018.
The company's order intake fell by 22% to €250.9m, which the manufacturer said was due to the fact that in 2017 the Special segment had been boosted by a large-scale press project.
Koenig & Bauer CEO Claus Bolza-Schünemann said: "Alongside our expansionary service business, we made further progress in the flourishing packaging printing. With our customer-centric solutions, we were able to increase order intake in cardboard and film printing, metal decorating, marking and coding printing. As expected, demand for digital printing presses was subdued."
Group revenue and earnings before Interest and Tax (EBIT) were both down in 2018. EBIT fell to -€1.9m from €5m in the first quarter of 2017. The company also made a net loss of €2.3m compared with a profit of €4.7m in the previous year. Earnings per share dropped to -€0.15 from €0.30.
CFO Mathias Dähn said: "Due to the delivery dates requested by our customers, press installations in 2018 will be concentrating on the second half of the year and particularly Q4 to an even greater extent than last year.
"The significantly increasing revenue momentum in the second half of the year together with further progress made by the cost-cutting projects in security printing, purchasing and production will lead to a clear improvement in group earnings."
The company attributed the decline to a 'stronger concentration of deliveries in H2', but it expressed confidence that it would achieve its target of a 4% growth and EBIT margin of 7%, 'underpinned by a high order backlog and a well-filled project pipeline'.
Bolza-Schünemann added: "With a good project pipeline in security printing, the booking of the usually large orders is not spread evenly over the individual quarters."
Cash flow coming from operating activities grew from -€14.9m to €20.3m due to a payment instalment of €34.8m for the external funding of a part of the pension provisions.
The management board said it expects a positive order development in the coming months thanks to the expansion of its service business, a growing demand in the packaging markets, new orders in security printing, as well as the high order backlog.
Founded in 1817, Koenig & Bauer is the oldest printing press manufacturer still in service in the world.