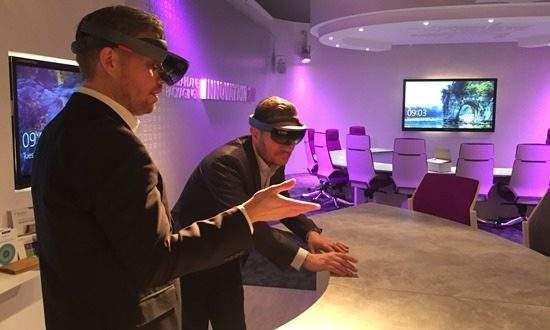 Macfarlane Packaging, a British distributor of protective packaging materials, has joined forces with American technology giant Microsoft to bring a 'mixed reality' experience to its customers.
The company is working to introduce to the market Microsoft's HoloLens Technology mixed reality headsets, which, according to Macfarlane, will enhance the packaging solutions experience.
Thanks to mixed or augmented reality – which merges the real and virtual worlds – Macfarlane's customers will be able to visualise new packaging concepts in a real-world environment where actual and digital objects co-exist and interact with each other.
Those who use Macfarlane's Innovation Lab in Milton Keynes will have the chance to wear these headsets, which will be ready to be introduced in February and will allow people to visualise full-scale 3D holograms in the real world.
The headsets can show pack station designs, packing lines, infill machinery and optimisation of palletisation, transportation and storage spaces.
They will also be on hand when customers want to identify cost-saving opportunities and efficiencies during the process.
The new technology will be presented and demonstrated at the upcoming Packaging Innovations event next month in Birmingham.
Macfarlane's first client is British department store Selfridges, which is also currently cooperating with the company to redesign their packaging area and increase productivity.
Donna Lynch, director from Macfarlane Packaging said: "These new Microsoft HoloLens headsets will further enhance the experience for our customers, helping us to convert our customers' packaging challenges into ideas and tangible solutions.
"Our Innovation Lab has been designed to ensure that there are no bounds to the imagination when seeking out smart solutions for our customers and with these new headsets we can also take a mixed reality experience to a customer's premises as we will do with Selfridges next month."