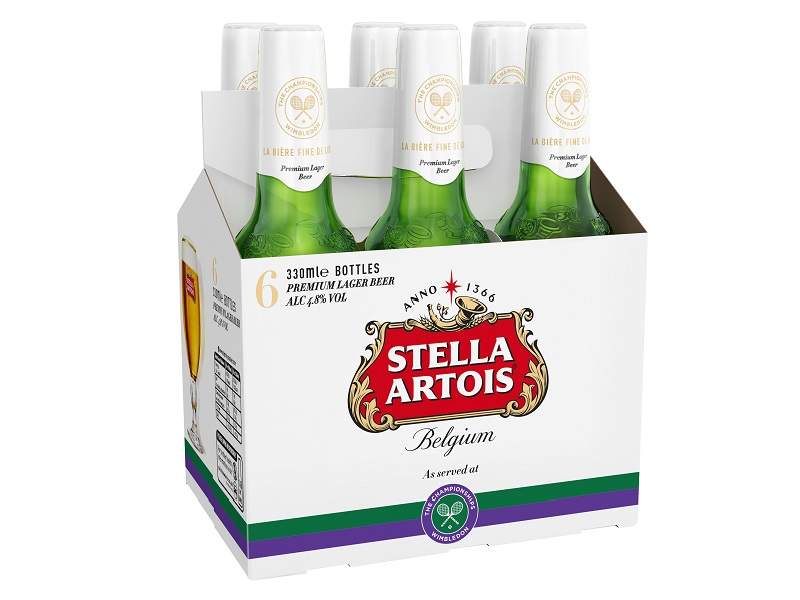 Leading packaging manufacturers in the UK and the world are celebrating the imminent arrival of the summer by launching special limited-edition packages in honour of some of the most awaited events taking place in the next months.
From sports tournaments to the royal wedding, the upcoming summer 2018 has offered designers several inspiring events.
In one example, AB InBev's Belgian brewer Stella Artois recently launched a new set of limited-edition packaging dedicated to the Wimbledon tennis competition taking place in July.
The company has partnered with The Championships, Wimbledon for the fifth consecutive year to design packaging that features the Stella Artois classic white background and the iconic purple and green symbolising Wimbledon.
Stella will sell its limited-edition bottles, cans and bottle packaging between 7 May and 12 July. As part of the campaign, the brewer will use its bottle packs to offer two VIP tickets to attend the tournament for ten winners, who will have a chance to see either the Men's or the Women's Singles final.
Stella Artois Europe marketing director Alexis Berger said: "Stella Artois has a strong tie to The Championships, Wimbledon, with consumers and retailers alike seeing Stella Artois as the perfect accompaniment to watch the oldest and most prestigious tennis tournament in the world. This is why we are so excited to launch the VIP ticket giveaway, which will give shoppers the chance to visit the iconic event, as well as help to boost purchase in the off trade."
Another major sports event taking place this summer is the FIFA World Cup, which kicks off in June and is sponsored by Coca-Cola European Partners. The soft drinks giant recently launched limited-edition packaging for the competition alongside a series of promotional activities and activation kits.
Coca-Cola's World Cup bottles will have an interactive label, which will allow customers to access EA Sports FIFA 2018 in-game content for Xbox One and PlayStation4 consoles. The promotional packs will be available on the 330ml cans and 500ml PET bottles and will be promoted through a £2.5m marketing campaign.
Coca-Cola European Partners customer marketing director Simon Harrison said: "Our latest promotion is designed to capture the excitement of the nation ahead of the 2018 FIFA World Cup by partnering with the world's biggest sporting game and helping retailers build their soft drink sales by appealing to the many football fans in Great Britain."
But the upcoming summer will not only be about sports tournaments. With less than ten days until the Royal Wedding between Prince Harry and Meghan Markle, Electropac has teamed up with confectionery firm Churchill's to launch a tinned giftware for biscuits with a design that pays tribute to the UK and London.
The packaging is a musical version of Churchill's Around London tins, which, when opened, play either the National Anthem or Rule Britannia.
Churchill's Kim Winston said: "With the Royal Wedding just weeks away, we thought that the technology would work really well for our Around London design. We approached QVC who jumped at the opportunity, hence the reason that the souvenir tin became exclusive to QVC. We are delighted with the product."