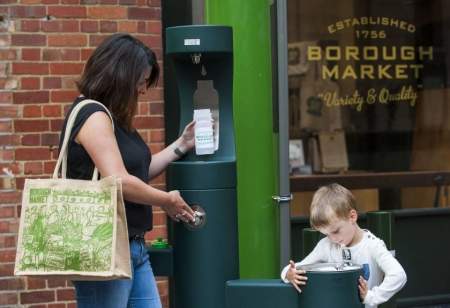 The Mayor of London, Sadiq Khan, is to propose a three-year, £750,000 initiative to address the problem of plastic waste in the UK's capital.
The plan, which will be presented to the London Assembly's budget committee on Thursday, aims to reduce the excessive use of plastic packaging and follows through on recent similar proposals from the British Government and the EU.
Part of the plan consists of the installation of a network of drinking fountains and bottle-refill points around the streets of London. As many as 20 drinking fountains could be installed across the capital starting from this summer, while the city will encourage businesses to make tap water available to the public.
The plan will also aim to distribute bottle-refill areas in five strategic points of London between February and March. If it succeeds, the plan will be expanded to the rest of the capital in the summer.
City Hall has also vowed to stop making plastic cups, bottles and cutlery available.
Khan also recently said that he will make sure that no biodegradable or recyclable waste is sent to landfill by 2026.
The deputy mayor for Environment Shirley Rodrigues said: "We shouldn't be using single-use plastics, the impact on the environment is so immense. We just need to get on now and stop their use in London."
The exact location of the fountains and the bottle-refill points is yet to be disclosed, though the businesses responsible for dispensing tap water will make sure Londoners will know where to go once the areas are decided. The five bottle-refill points will also be trackable through an app.
Rodrigues said that Transport for London's tube stations and busy shopping areas such as Oxford Street are among the most likely destinations.
She added: "We are going to be looking at partnerships with organisations like business improvement districts and boroughs and others to understand where we can install more water fountains."