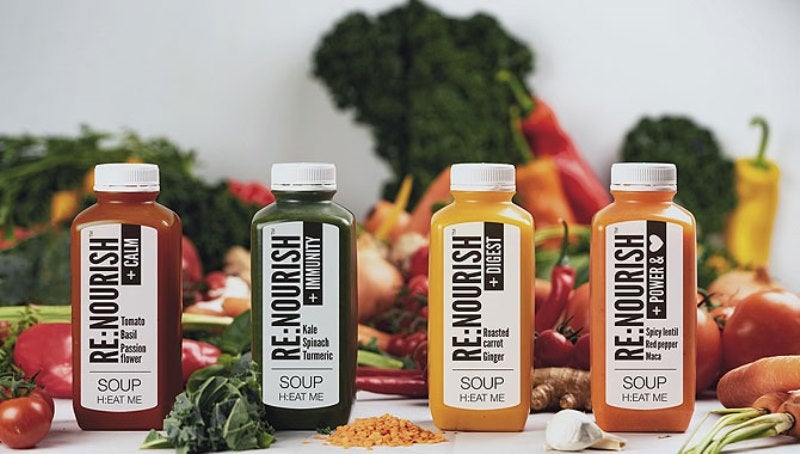 Berry Global company M&H Corby has developed custom-moulded bottles for the prepared soups of fresh food delivery business Re:Nourish.
The packaging firm has designed a rectangular-shaped 500ml bottle, which was conceived by Re:Nourish founder Nicci Clark.
The fully recyclable bottle was blow-moulded in transparent polypropylene with an aim to make the soups visible to emphasise their natural properties and create on-shelf impact.
M&H Corby featured black and white labels on the large decoration area to support the soup maker's brand identity.
According to the company, the new safe and easy-to-handle 500ml bottle is light in weight but strong enough to offer protection.
Clark said: "With these soups, we are breaking all the rules and reinventing them. We see soups as the new 'juices' in delivering a flavour-filled experience that is both delicious and healthy.
"As part of this, the right packaging was essential. M&H Corby has done a fantastic job in producing a quality bottle that projects strong brand messaging, maintains the freshness of our soups and provides the simplicity and ease of use that busy consumers demand."
Re:Nourish offers four types of soups including Digest; Power and Love; Calm; and Immunity. These are made using natural ingredients including vitamins and micronutrients and are offered in a 'grab and go bottle'.
Last month, Superfos, a subsidiary of Berry Global Group , provided square containers from its UniPak pail standard range to Italian firm Carioca in order to replace the round container packaging of the latter's 48 Jumbo felt-tip pens.