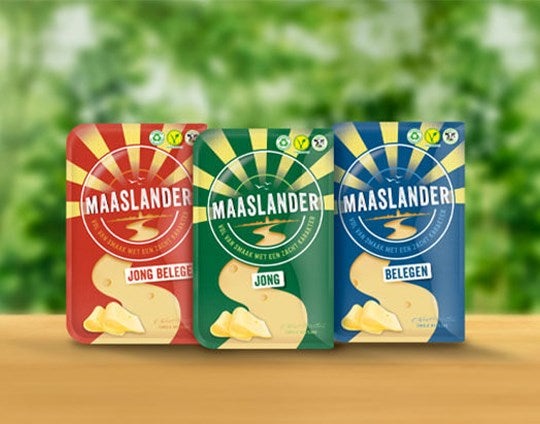 Global packaging and paper manufacturer Mondi has developed a polypropylene (PP) mono-material packaging solution together with cheese packaging company Hazeleger Kaas and brand owner Westland Kaas.
Named EnvelopeForm, the lightweight solution will be used to package Westland Kaas' Maaslander cheese slices.
Mondi regional sales Benelux consumer flexibles head Peter Jagt said: "Using our customer-centric approach, EcoSolutions, we knew that we could help Hazeleger find the most sustainable solution for their cheese.
"The new mono-material film is recyclable, performs well on their machines and keeps the cheese slices fresh on shelves.
"Along with our commitment to quality, this made it possible to provide Hazeleger with a sustainable solution."
The mono-material film replaces the heavier, multi-layer plastic solution currently used for packaging Maaslander cheese slices, which is harder to recycle.
The packaging solution features a PP thermoforming top and bottom web and PP label, making it fully recyclable.
Certified as recyclable by Institut cyclos-HTP, it has been designed to meet the oxygen and moisture barrier properties needed to protect the product's quality and freshness.
Hazeleger Kaas procurement manager Andre Roeterdink said: "When we began the search for a new sustainable solution in 2018, our standards were already very high.
"In order for our cheese to stay fresh, the packaging had to have the same level of barrier protection as the previous film and at a lighter weight. Mondi worked very closely with us to trial and test the best packaging solutions."
With this lighter film and enhanced product to packaging ratio, Hazeleger Kaas will be able to reduce its plastic usage by 23% and save 9.2t of plastic a year.
In April, Mondi developed three sustainable alternatives to help Spanish retail chain Alvaro Moreno switch from plastic to paper for its shopping, online delivery and gift bags.
The bags will be made from Mondi's Advantage and EcoVantage product ranges, which are made from renewable and responsibly sourced materials.