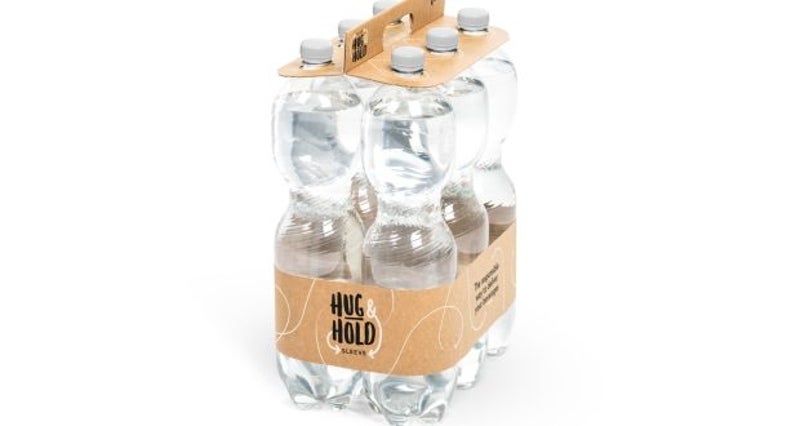 UK-based packaging and paper company Mondi has developed a paper-based packaging solution for polyethylene terephthalate (PET) bottle bundle packs.
The Hug&Hold solution comprises a kraft paper sleeve and a corrugated clip for safe transportation and stacking of bundles of bottled drinks.
The patent-pending sleeve is made of 100% kraft paper and wraps around the bottles to hold them securely, while the corrugated clip holds the bottles around the neck.
The solution also features an optional integrated handle to carry bundles of bottles, which can also be separated from the pack to offer added convenience.
Mondi partnered with packaging automation technology specialist Krones to ensure that Hug&Hold can pack bottles in a completely automated process using Krones' latest machine.  
Mondi corrugated solutions sales and marketing director Tarik Aniba said: "The evolution of secondary transport packaging is just what the global drinks industry needs as it looks to the future.
"A sustainable, functional and fully automated alternative to plastic shrink wrap means that brand owners can safely switch to a recyclable paper-based packaging solution, without any risk to their product or logistics."
Hug&Hold is currently available for PET bottles of 0.5l to 1.5l capacities in bundles of six or four.
The packaging solution will be exhibited at the Drinktec fair, which will be held in Munich, Germany, from 13 to 16 September.
Mondi claims to be the first company to develop and commercialise a packaging solution that is made from renewable and fully recyclable materials and can be recycled in existing paper waste streams across Europe.
In July this year, the firm launched fully recyclable paper packaging for Italian pasta brand Antico Pastificio Umbro in collaboration with Fiorini International.
The packaging is made from renewable resources and is designed to offer similar protective properties to the brand's previous plastic packaging.