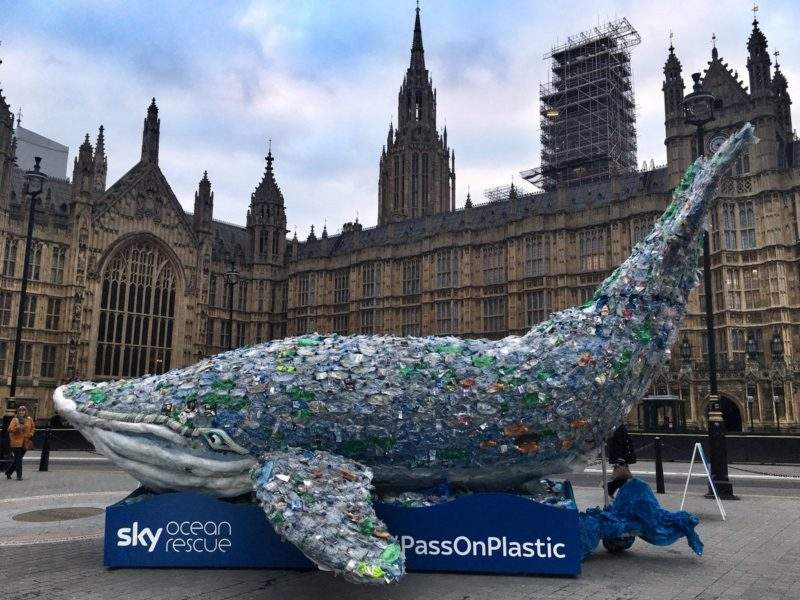 British Members of Parliament have committed to reduce their use of plastics amid growing concerns over the need to tackle pollution and safeguard of the oceans.
On Tuesday, parliamentarians made their pledges to recycling and to phase out single-use plastics, as a whale named Plasticus was placed outside Westminster.
Plasticus, the symbol of Sky Ocean Rescue, a project launched by British telecommunications company Sky, is made of a quarter of a ton of plastic, representing the amount of plastic that enters the world's oceans every second.
According to the latest findings, whales and sharks are the marine species most likely to be affected by microplastic pollution, and figures show that hundreds of millions of tiny fragments of indigestible plastic are dumped into the ocean every day.
MPs are joining celebrities such as model Cara Delevigne and TV presenter Ben Fogle in the war against plastic, and are promoting it on social media through the hashtag #PassOnPlastic.
The project was welcomed by politicians after it emerged that more than a million disposable coffee cups were used in the Parliament in 2017, which prompted the decision by both Houses to ditch plastic straws and cutlery. The two Houses are also believed to have used vast quantities of stirrers, condiment sachets, and disposable water bottles.
Environment Secretary Michael Gove said: "Plastic has no place in our oceans, and I wholeheartedly support the work Sky's Ocean Rescue campaign has done to put this issue in the hearts and minds of the public.
"We have already introduced one of the world's toughest bans on microbeads and removed nine billion carrier bags from circulation, and through our ambitious 25-year plan for the environment I am determined we further crack down on the scourge of plastic choking our oceans."
A committee of MPs is currently reviewing the use of disposable plastics inside the House of Commons, as rumours suggest that the Parliament could soon become a plastic-free environment.
The Speaker of the House of Commons, John Bercow, said: "I am delighted to support Sky Ocean Rescue and I welcome the move by MPs to reduce their single-use plastic consumption to protect our oceans.
"This is a critical environmental issue and I hope we will be able to further reduce single-use plastic waste throughout the Palace of Westminster in the future."
Scottish Parliament recently banished plastic straws from its own canteen, bar and cafes after figures showed that over 4,000 of them were used at Holyrood Palace every year.