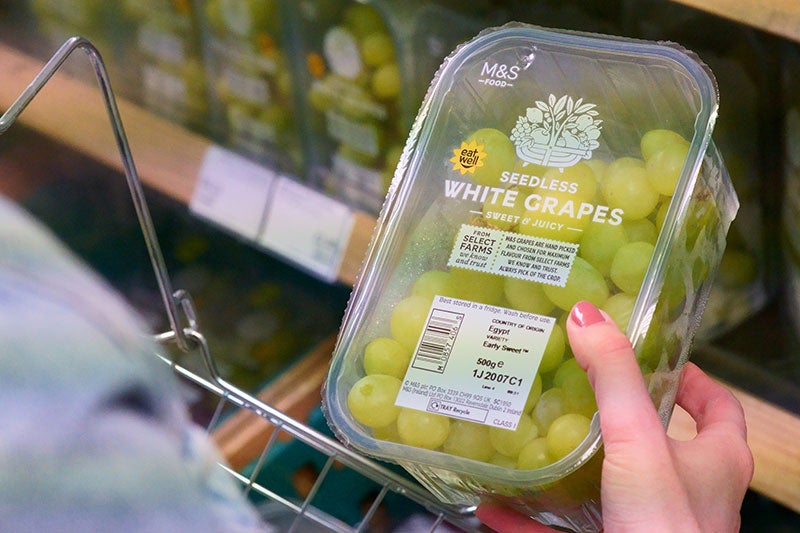 British multinational retailer Marks & Spencer (M&S) has revealed plans to remove 'best before' dates from fresh produce packaging labels in an effort to reduce food waste.
The retailer will remove dates from the labelling of more than 300 fruit and vegetable products, replacing them with a code that store colleagues will use to maintain the freshness and quality of products.
From this week, the label will be rolled across all M&S' UK stores and will affect 85% of the retailer's produce offerings, including apples, potatoes and broccoli.
The company aims to encourage customers to discard less edible food at home by using their judgement.
M&S food technology director Andrew Clappen said: "We're determined to tackle food waste – our teams and suppliers work hard to deliver fresh, delicious, responsibly sourced produce at great value and we need to do all we can to make sure none of it gets thrown away.
"To do that, we need to be innovative and ambitious – removing best before dates where safe to do so, trialling new ways to sell our products and galvanising our customers to get creative with leftovers and embrace change.
"The other side of the challenge is making sure anything edible we don't sell reaches those who need it most.
"By partnering with Neighbourly since 2015, we've ensured over 44 million meals are redistributed to local communities.
"Our promise as we aim for our target of halving food waste is to keep searching for solutions while we maintain the standards and value our customers expect."
M&S has committed to reducing its food waste output by 50% by 2030 and redistributing all its edible surplus by 2025.
In the company's recent Family Matters Index, more than half of the families surveyed said it was important for the shops they buy from to help them make more sustainable choices.