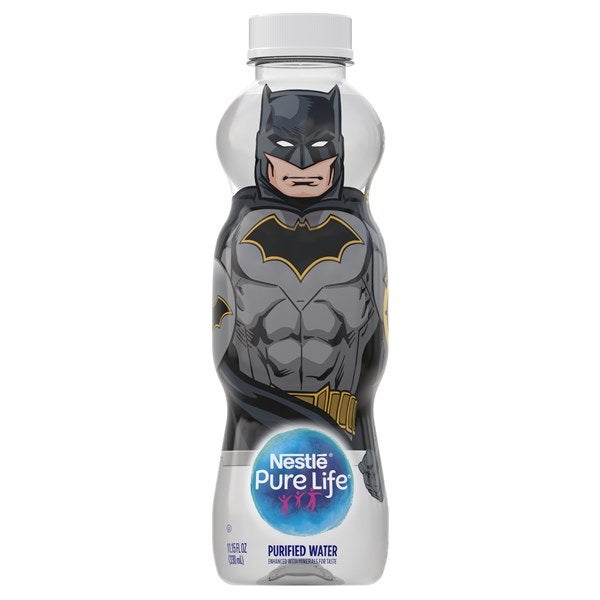 Drinking water brand Nestlé Pure Life has launched a new 330ml bottles for kids made from 100% recycled plastic (rPET).
The new bottles feature four DC characters such as Batman, Wonder Woman, Superman and Shazam.
The bottle is 100% recyclable, including the cap. It features some special effects that are intended to motivate kids to drink more water.
According to Nestlé Pure Life, the water bottle will serve as a healthy option to sugary drinks.
Warner Bros. Consumer Products franchise management and marketing senior vice-president, Maryellen Zarakas said: "DC Super Heroes are among the most popular in the world and this new line of bottles is a great way to appeal to families with kids while reinforcing healthy choices.
"We are also teaching kids that every positive action towards creating change is what being a superhero is all about."
Nestlé Waters North America has used new technology to produce sleeve labels for the bottle, which are more compatible with the recycling process. This helps to ensure the bottle is 100% recyclable.
Consumers do not have to remove the label before disposing of the bottle.
Nestlé Waters North America chief marketing officer Yumi Clevenger-Lee said: "We are excited to team up with Warner Bros. and DC to make drinking water more fun for families with kids.
"By featuring characters kids look up to, along with a 100% recyclable bottle made with 100% recycled plastic, we are doing our part to help keep both families and the planet healthy."
In 2018, the company announced its commitment to use 25% recycled plastic across its portfolio in the US by 2021. The company also aims to reach 50% recycled plastic target by 2025.