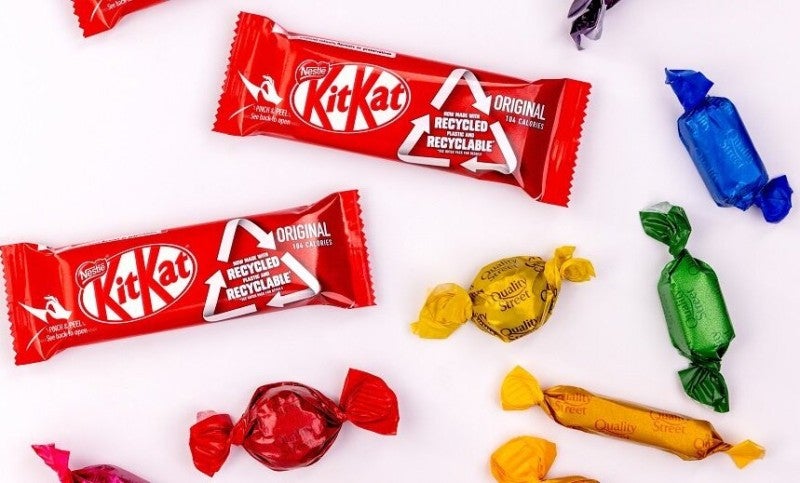 Food and beverage company Nestlé Confectionery has introduced new wrappers to improve the sustainability of its Quality Street and KitKat brand product packaging.
The company will replace dual foil and cellulose from its twist-wrapped sweets worldwide with recyclable paper wrappers certified by the Forest Stewardship Council (Fsc ).
The wrapper is the result of a collaboration between Nestlé's Confectionery Research and Development Centre in York, UK, and the Switzerland-based Nestlé Institute of Packaging Sciences.
It is expected to remove nearly 2.5 billion individual pieces of packaging material from its supply chain worldwide.
In addition, Nestlé is introducing wrappers made 80% from recycled plastic for its KitKat brand.
The company claims that these wrappers can be recycled at more than 5,000 supermarkets across the UK, as well as placed in household recycling in Ireland.
Nestlé will launch the packaging for KitKat's two-finger products from this month, with plans to expand it across the entire range by 2024.
Nestlé Confectionery business executive officer Richard Watson said: "These major packaging innovations have been pioneered by our teams here in the UK.
"The new KitKat packaging is enabled by a significant upgrade to Nestlé's York Factory, while the category-leading Quality Street paper twist-wraps have been designed at our Confectionery Product Technology Centre in York, and implemented in Halifax, the home of Quality Street for 87 years.
"The changes we are announcing today have been informed by detailed lifecycle assessments that have enabled us to identify solutions with a lower environmental impact than our current packaging."
The introduction of the new packaging is part of Nestlé's ongoing efforts to reduce its environmental impact and support a circular economy. 
As a member of the UK and European Plastics Pacts, the company is committed to using fully recyclable or reusable packaging by 2025.  
During this timeframe, the company will use at least 30% recycled content in any plastic.