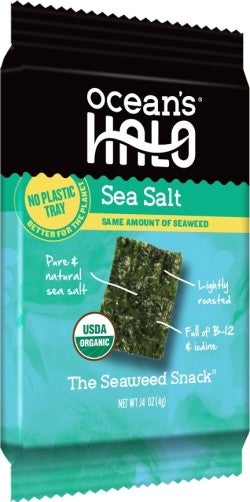 US-based food and beverage company Ocean's Halo has removed plastic holding trays from its seaweed snack line as part of its commitment to sustainability.
The company will start offering its 'Sea Salt' flavoured Seaweed Snack without a tray packaging from this month.
The trayless Sea Salt flavoured seaweed snack will be available in-store in almost 500 US retailers, including Walmart, as well as online via Amazon.
Later this year, it will be made available exclusively via Ocado.com in the UK.
With this initiative, Ocean's Halo expects to divert at least 15 million pieces of plastic waste from landfill and oceans a year.
The move will also reduce the brand's overall carbon footprint by 50%.
Ocean's Halo CEO Robert Mock said: "Consumers increasingly want sustainable products and we believe eliminating this plastic packaging waste is a game-changing innovation.
"We have been working on this patent-pending technology for a long time and are excited that it's finally come to fruition.
"This is a win for consumers, merchants and the planet. We hope it will become the industry standard."
Founded in 2011, Ocean's Halo offers seaweed snack products, broth, noodles and sauces.
The company's vegan seaweed snacks are gluten-free, free from genetically modified organisms and certified as organic by the US Department of Agriculture.
As part of its sustainability commitments, Ocean's Halo donates to ocean conservation initiatives via 1% for the Planet, an international organisation that aims to help businesses and individuals make their operations more environmentally friendly.
The healthy snack industry is currently worth $2bn and seaweed has gained popularity in recent years, particularly among younger consumers.
Seaweed grows in the ocean with sunlight and absorbs carbon from the environment, requiring no soil, fresh water or fertiliser.