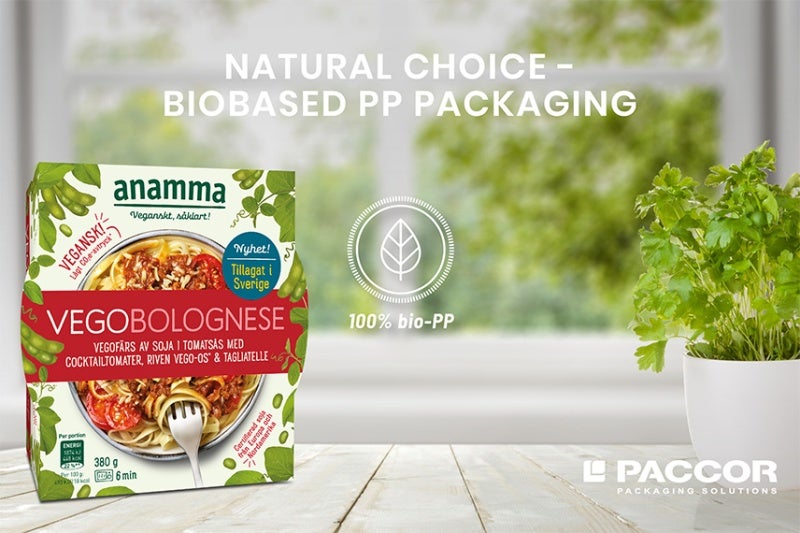 Germany-based packaging company PACCOR is set to begin manufacturing fully biobased polypropylene (Bio-PP) products for consumer goods brand Orkla.
The two companies have begun testing a fully Bio-PP material at PACCOR's production facility in Hämeenlinna, Finland.
The material has been developed from renewable resources and complies with the International Sustainability and Carbon Certification's (ISCC) mass balance principle.
PACCOR CEO Andreas Schütte said: "We are pleased that we are now able to switch production from virgin fossil to biobased PP.
"PACCOR is an industry frontrunner in sustainability. Our goal is to accelerate circularity and bioeconomy in plastics."
The first Bio-PP product made by PACCOR is a fully recyclable, transparent bowl for frozen ready meals.
The move is in line with the company's CARE strategy, under which the company aims to enhance and expedite decarbonisation efforts across its value chain.
Orkla packaging development manager Elna Hallgard said: "Our collaboration with PACCOR is a good example of how a pioneering material can be implemented in food applications and can help to meet consumer demand for more sustainable products."
PACCOR is a rigid plastic manufacturer that produces bio-PP products.
The company has another ISCC-certified production site in Ravensburg, Germany, and plans to offer its new biocomposite to its business partners worldwide.
It employs more than 3,700 people across sites in 18 countries.
In 2019, PACCOR launched an environmentally friendly line of continuous compression-moulded bottle lids.
The lids were designed, tested and produced at the company's facility in Mansfield, UK.
Orkla supplies branded consumer goods for the grocery, out-of-home, specialised retail, pharmacy and bakery sectors in the Nordics, Baltics and certain markets in Central Europe and India.
The company is based in Oslo, Norway, and listed on the Oslo Stock Exchange.
It reported a turnover of Nkr41bn ($4.74bn) in 2018.