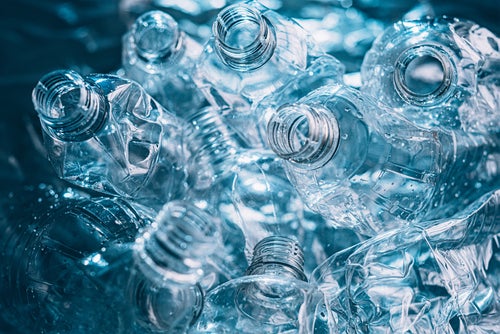 Coca-Cola and Unilever are among companies criticised for making claims about plastic packaging that amount to "greenwashing".
A study by the campaign group Changing Markets Foundation accuses companies of "misleading and mendacious" claims.
The group says there is "a slew" of examples of manufacturers and retailers obscuring "the real impact of plastic from consumers".
What are the greenwashing packaging claims?
Changing Markets Foundation says the Coca-Cola Co. "has spent millions of pounds in advertising" to promote bottles that are made out of 25% marine plastic "while failing to mention that it is the world's biggest plastic polluter".
Coca-Cola has been contacted for comment.
Unilever, meanwhile, faces criticism for a move to replace recyclable PET bottles of washing liquid with pouches as part of an initiative to encourage the use of refills.
"Unlike PET bottles the pouches are unrecyclable and only contain two refills," Changing Markets Foundation said.
The FMCG giant has also been contacted for comment.
"This is just the tip of the iceberg and it is of crucial importance that regulators take this issue seriously," George Harding-Rolls, campaign manager at Changing Markets Foundation, said.
"The industry is happy to gloat its green credentials with little substance on the one hand while continuing to perpetuate the plastic crisis on the other. We are calling out greenwashing so the world can see that voluntary action has led to a market saturated with false claims. We must embrace systemic solutions, such as absolute reductions in plastic packaging and mandatory deposit return systems."
Tesco was also highlighted in the report. The campaign group said the recyclable flexible plastic packaging used for some of the retailer's products could only be recycled if consumers take it back to certain stores "and even then it is unlikely to be recycled".
Changing Markets Foundation said its research had shown waste from the soft-plastic take-back schemes run by UK supermarkets was "often being exported to countries such as Turkey".
Tesco said: "All of the soft plastic we collect will be sorted in the UK from later this year, ensuring it stays out of landfill and is recycled into a range of items. We welcomed recent legislative measures to increase the consistency of kerbside collections for plastic recycling."
The report also labelled Terracycle, which works on FMCG companies on recycling, "a greenwashing initiative".
Changing Markets Foundation claimed the Terracyle logo "is widely used across a variety of unrecyclable plastic products to give the impression that they are greener than they are".
In response, Terracycle said: "We are extremely disappointed to be included in the Changing Markets Foundation report on food and beverage companies' efforts around plastic packaging. We have received no contact from the Foundation to try and engage with us or ask us any questions they may have as to what TerraCycle does / offers."
It added: "Greenwashing is where "green" marketing is deceptively used to promote the perception that an organization's products, aims, or policies are environmentally friendly when they are not. TerraCycle's recycling programmes are authentically collecting, processing, and recycling. Our programmes provide the public a simple and convenient way to recycle a wide range of types of products and packaging which aren't recycled by municipal systems and so would otherwise end in landfill / incineration. In no cases are claims around our programs exaggerated, which is a key tenet to the idea of greenwashing."