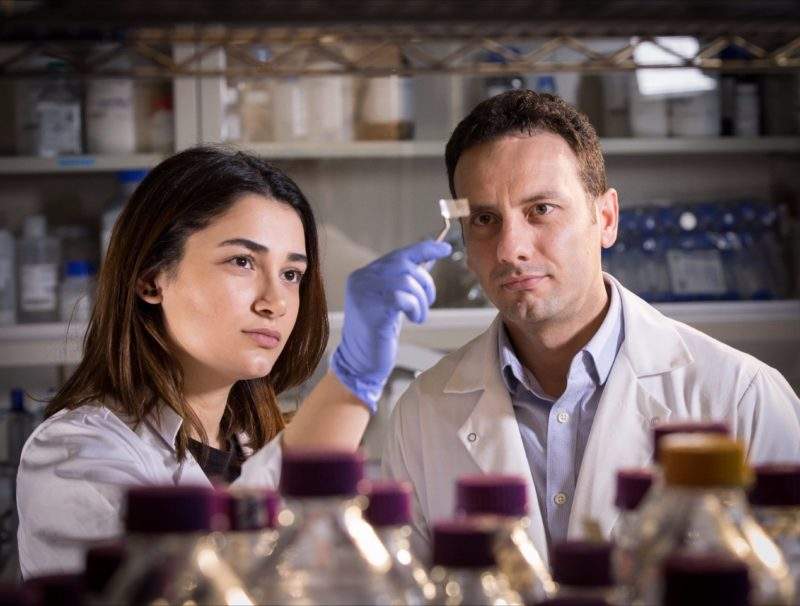 Researchers from McMaster University have developed a transparent patch that could be incorporated into food packaging to monitor the contents for harmful pathogens such as E. coli and Salmonella.
The technology, described in the research journal ACS Nano, could also eradicate the need for best before dates on food and drinks packaging.
"In the future, if you go to a store and you want to be sure the meat you're buying is safe at any point before you use it, you'll have a much more reliable way than the expiration date," said McMaster Faculty of Engineering graduate student and lead author Hanie Yousefi.
If a pathogen is present in the food or drink inside the package, it triggers a signal in the patch that can be read by a smartphone or other simple device without opening the packaging. The sensor, which is thin and flexible, is made from harmless molecules to ensure the test has no adverse effects on the contents of the package.
"The sensor is a small piece of DNA," said Yousefi. "Normally it has a small fluorescent dye, like a lamp, which is covered. When E. coli is there the cap will be gone and it starts to shine. Using a smartphone and appropriate app, we can measure and check the food."
The researchers believe the patch could tackle foodborne pathogens which, according to the World Health Organisation, result in approximately 600 million illnesses and 420,000 deaths per year. Around 30% of those cases involve children five years old and younger.
The technology builds upon research carried out by the McMaster-based Sentinel Bioactive Paper Network, an interdisciplinary research network that worked on paper-based detection systems and from which the transparent patch takes the name 'Sentinel Wrap'.
The signalling technology for the food test was developed in the McMaster labs of biochemist Yingfu Li.
"He created the key, and we have built a lock and a door to go with it," said the chair of McMaster's Department of Chemical Engineering Carlos Filipe.
The researchers believe that producing such a patch would be fairly cheap—estimated at a few cents per patch if mass produced—and simple because the DNA molecules that detect food pathogens can be printed onto the test material.
"A food manufacturer could easily incorporate this into its production process," said McMaster Institute for Infectious Disease Research assistant professor of mechanical engineering Dr Tohid Didar.
When integrated with packaging, the patch would be disposable, but the researchers have plans to develop the technology for use in hospitals and in the kitchen, where the sensor would be reusable.
According to Yousefi, there are no big challenges remaining from a technological perspective, but they are awaiting regulatory approval and industry partners to invest in the product.
The sensor is not the only smart packaging that has tried to tackle food spoilage, with Indian packaging company Uflex recently launching antimicrobial packaging to extend product shelf life.