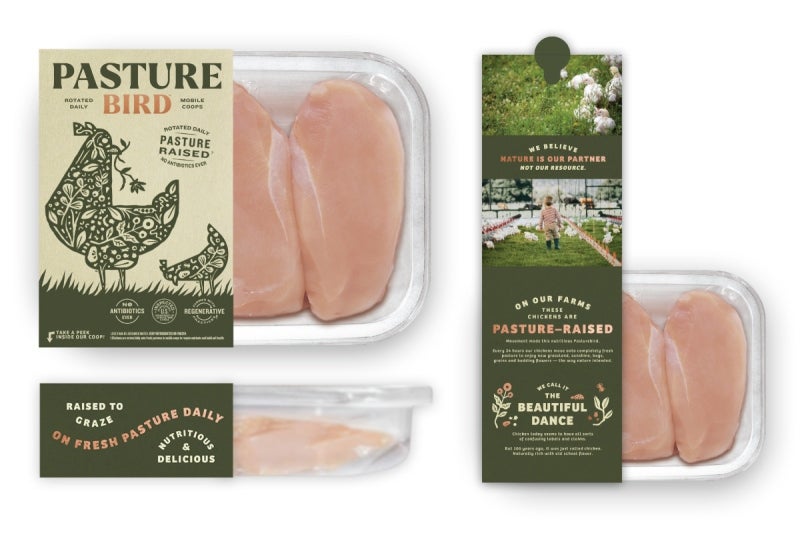 US-based poultry producer Pasturebird has launched a new range of retail packaging for its pasture-raised chickens.
Designed by creative and brand design agency Pearlfisher NYC, the packaging design is themed around the expression 'you are what you eat'.
Pasturebird's new meat case features a flip-up sleeve to provide space for printing more information about the brand.
It carries an expression of the company's 'revolutionary' production system, which involves the daily rotation of chickens to fresh pasture through its automated range coop and other mobile coops.
Pasturebird will exhibit the packaging at the 2022 Natural Products Expo East show in Philadelphia, Pennsylvania, later this month.
The brand's chicken will be available at certain natural and traditional grocers across the US, with a focus on the East and West Coasts.
Pasturebird co-founder Paul Greive said: "I spent a lot of time on the East Coast in the Marine Corps, so it's a dream come true to exhibit at Expo East this year and launch into the retail world on this side of the country with fresh packaging that truly embodies our mission and values.
"So much of the meat aisle is about confusing labels, certifications and claims, so it's hard for consumers to know what to buy.
"We are bringing that big, regenerative story front and centre on our packaging through beautiful imagery and messaging that helps consumers understand that our chicken is very different and even better than traditional free range and organic poultry."
Pasturebird aims to apply modern technology to traditional farming methods and make pasture-raised more accessible.
The company focuses on improving the standard for rearing animals and moving agriculture from a man-made system of depletion to a more self-sustaining, natural ecosystem.
Its chicken products include whole and spatchcock chickens, chicken wings, drumsticks and breasts.