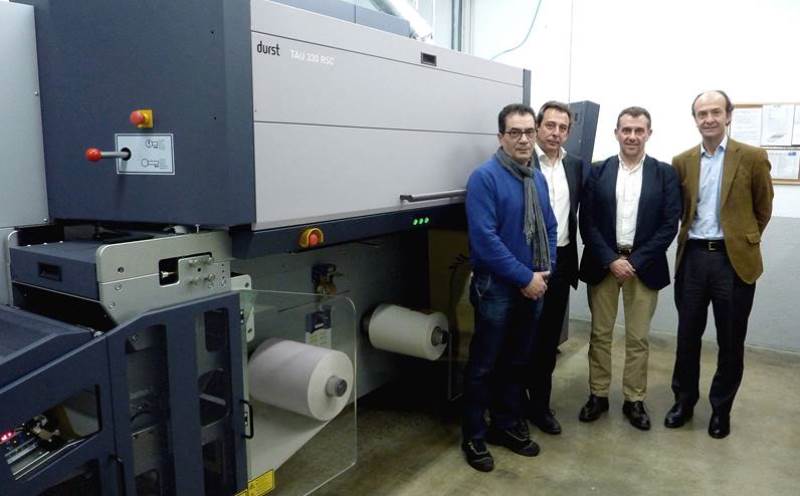 European adhesive label production specialist Printeos Group has made an investment to buy Durst Tau 330 RSC inkjet single-pass press from Durst.
Durst is an Italian manufacturer of photographic printing equipment.
The company will use the new machine to accelerate digitisation by transforming production for its Spanish subsidiary Adhesivos del Segura.
Adhesivos del Segura employs 154 people and offers a range of labelling solutions to customers in the food, cosmetics, industry and wellness sectors.
The group has conducted research and evaluated 15 options before choosing Durst Tau 330 RSC.
Printeos Group label division manager Carlos Coll said: "Immediately, we realised the inkjet technology was the most suitable option because of its productive capacity and lower operating costs.
"Durst's Tau RSC systems stayed ahead of the competitors' proposals and were the only ones that could meet both requirements simultaneously."
"Our first objective was to reach the capacity to digitalise at least 10% of Adhesivos del Segura production in the first year.
"To achieve that goal, we needed high-productivity systems. In addition, the demanding markets we work in require a heightened level of quality, and today, not all inkjet solutions are able to offer that.
"Durst's Tau RSC systems stayed ahead of the competitors' proposals and were the only ones that could meet both requirements simultaneously."
"All orders under 2,000m are now assigned to the Durst Tau, but when the Jumbo Option is added, allowing the use of 4,000m rolls, maximum order size will be increased considerably."